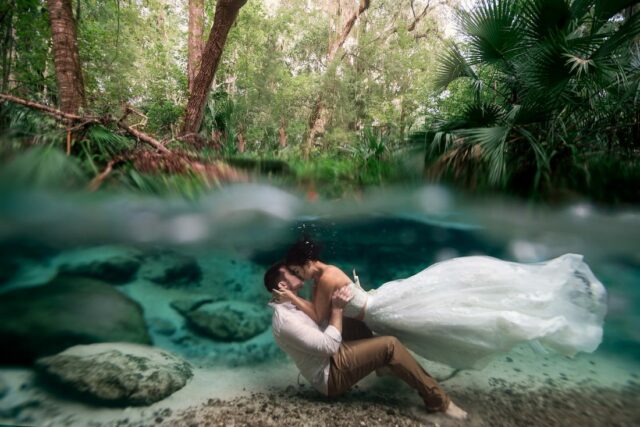 Some photos are iconic, and you instantly recognize it after seeing one. This breathtakingly beautiful picture of two newlyweds underwater is one of those iconic pictures. It was taken in Apopka, Florida by Kimber Greenwood, and it also won an award at the Ocean Art Underwater Photo Competition.
When it comes to wedding photography, the category is a tough one as it seems to be a very competitive business where uniqueness is hard to achieve. Standing out from thousands of wedding photographers and creatively capturing joyful moments is not an easy task.
That's why Greenwood's picture is so powerful, as it brings a new twist and a different point of view into a niche of photography that is filled with lots of clichés. Greenwood uses a Nikon D750 camera and according to her, capturing this picture took some extra work as there have been some strong currents in the water that day.
Luckily, her assistant was there to help and hold her in place and also contribute to the creation of this amazing underwater image.