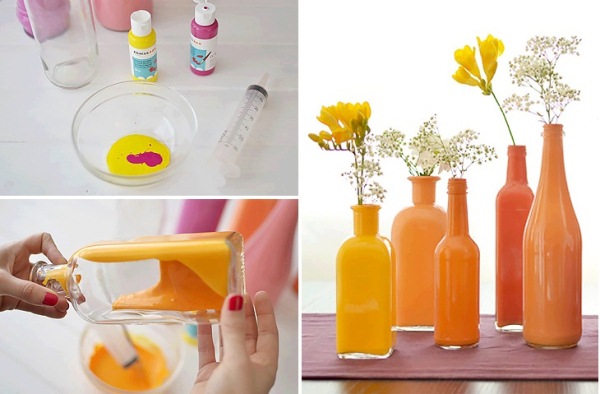 We all have a lot of glass bottles at home, which we often acquired when buying some drinks. If we use our imagination these bottles can be recycled, and we decided to show you a way in which you can decorate your house with them. So here is how to do it: opinions are innumerable, but make vases out of painted bottle. We will make an ornament that we can use as a vase and it can be the centerpiece in both the living room and the dining room or a little corner of your kitchen. Materials you'll need: glass bottles, glass paint of various colors to choose according to our decor, tone ribbons of paint, flowers, large syringe. Now, that we have all the materials, we can start decorating our vase:
The first thing to do is gather a few bottles or jars and, if they are transparent, you have to decide which color you want to use. It can be a single color that goes to white gradient, or gradient between various colors. Then, as a first step, properly cleanse the bottles, inside and out, then let them dry.
Another options instead of glass paint would be the tempera and wall painting, if you prefer. Dilute the paint with a little water to flow into the bottle better (but not too much or it won't cover well), and absorb it with a large syringe (you can buy this at any pharmacy). Now we start covering the bottle with paint. Once done, leave the bottles upside down and it will take several hours to drain any excess of paint. You can do this by using absorbent paper. Now, that you've removed the excess of paint, let the bottles dry for 12 hours. This step should be repeated for each bottle. In the last step you can take the ribbons, and tie them nicely around the bottles to add some extra style to them. You can use adhesive to make the ribbons stick. Once that everything is dry, you can start placing the flowers in the bottles and arrange them the way you like it.