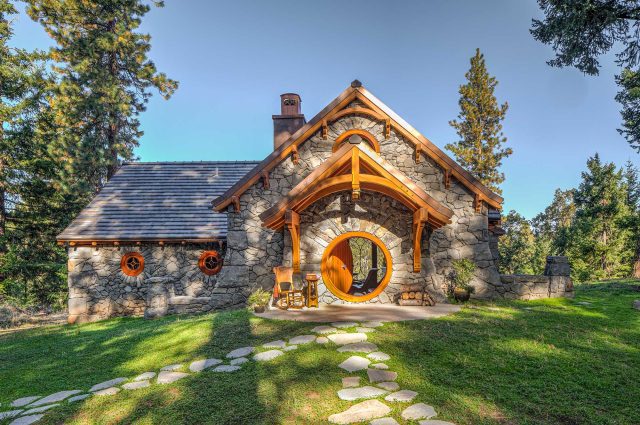 With a touch of Tolkien, relax in this story book home. Set high upon a dragonfly filled knoll overlooking a pond. Watch the birds, deer and wild turkeys roam from out the large circular glass moon door. Step outside onto the veranda and take a dip in the wooden barrel hot tub. What do you think?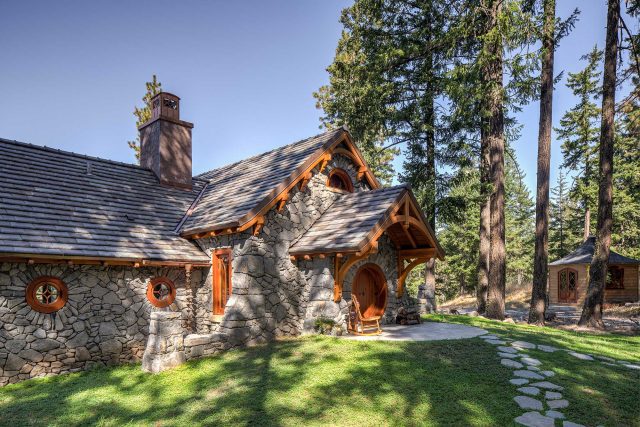 This stone cottage is designed in the spirit of a J.R.R. Tolkien Hobbit House on their 27-acre rural property. The resulting project, the Hobbit House at Dragonfly Knoll, is sited on the edge of a steep hill and overlooks a pond with a beautiful, wooded backdrop.The 1,200 SF cottage plan has a diminutive Entry through a round Hobbit-scale door opening into a cathedral-like timber framed Living, Dining and Cooking space.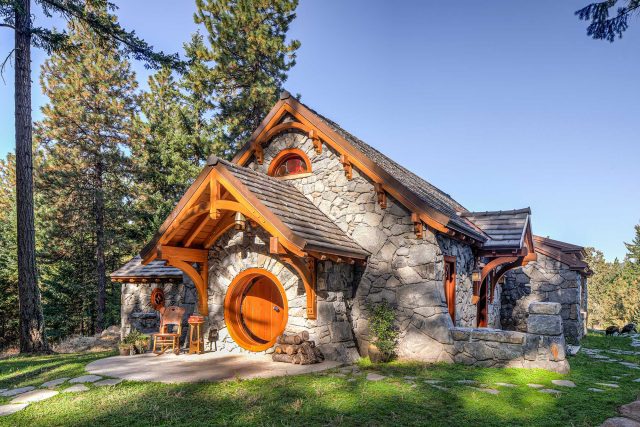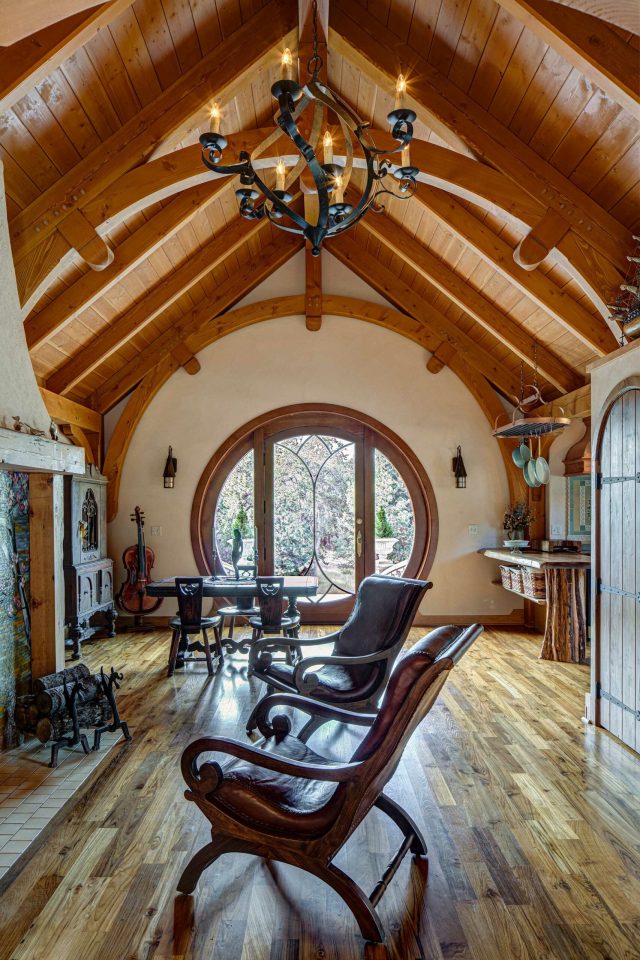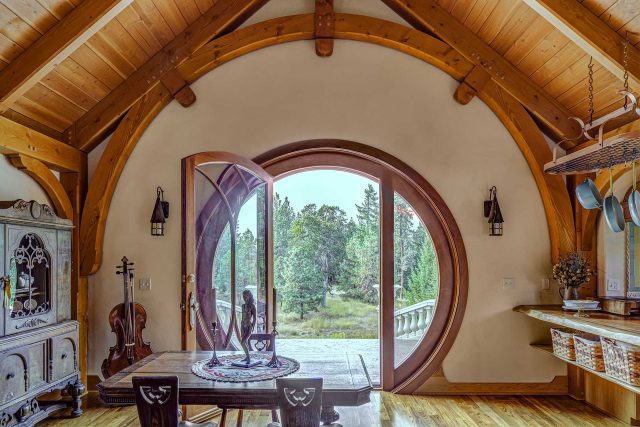 The Hobbit House at Dragonfly Knoll tells a story of true craftsmanship, inspired by Arts & Crafts along with imagery described in the writings of Tolkien. The home is designed using structural timber framing, a playfully detailed stone exterior, clay tile roof, and uniquely patterned mahogany windows. Most of the interior selections were lovingly made by the clients, who were committed to bringing their vision to fruition – searching for finishes and fixtures, working with artisans and personally designing and fabricating a curved tile mosaic ceiling in the Bathroom.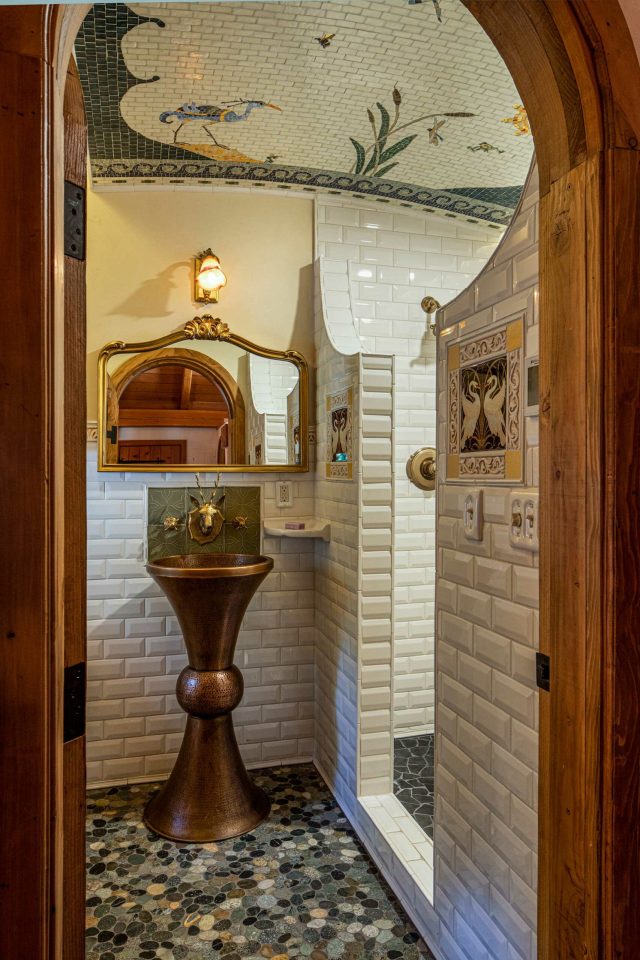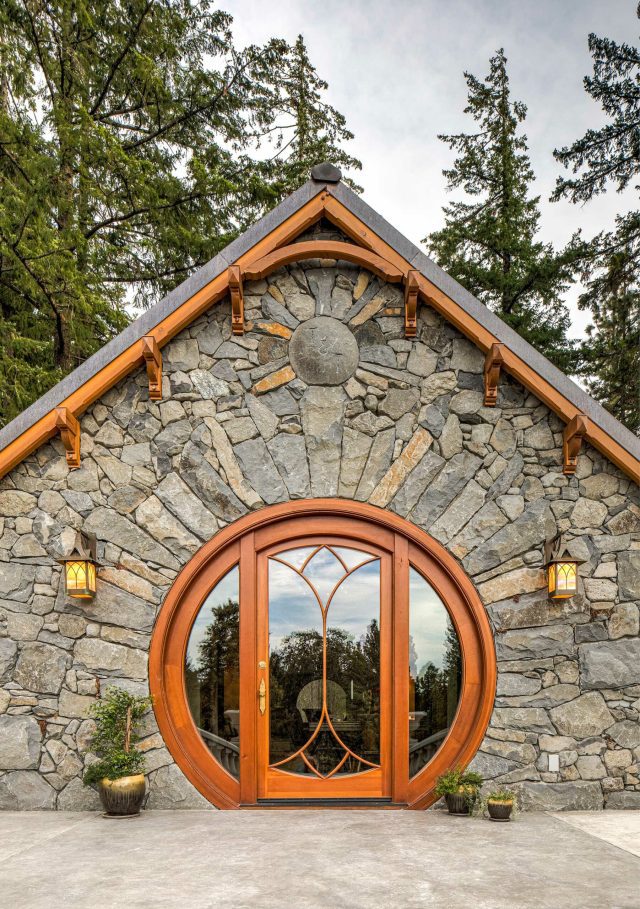 Dragonfly Knoll is a truly unique, other-worldly experience where you will find detail in every little corner and room of superior craftsmanship and hospitality. The kitchen is fully equipped, plenty of reading material and nature views that would make a week long stay worth it. Close enough to site seeing, hiking, eating and drinking but also secluded enough if you never want to leave and just get away from it all.
Designed by Archer Buchanan
Check availability HERE…