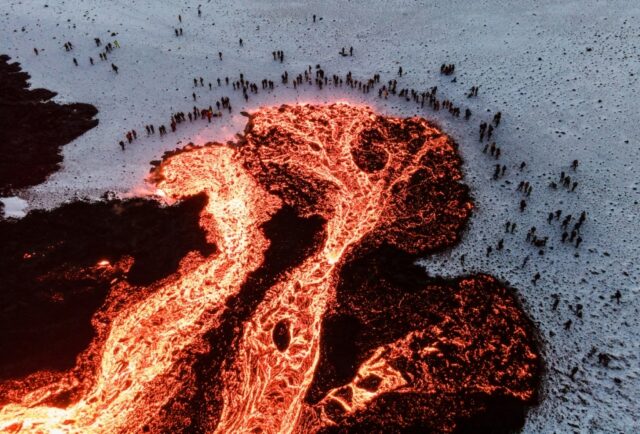 Brian Emfinger is a photojournalist who loves to chase storms to catch the perfect picture on his camera. To capture this stunning photo, he traveled to Iceland and witnessed the eruption of the Fagradalsfjall volcano.
The volcano has been active since March and Emfinger returned with stunning images after visiting the site. His best picture is the one in which the volcano can be seen erupting from above, creating a large red carpet of flowing hot lava.
The heat from the lava is so hot that the people standing on the side of the volcano used the heat to warm themselves up and forgot about the cold snow surrounding them.
Being so close to an erupting volcano and witnessing the wonders of Iceland, Emfinger felt truly inspired to capture these amazing images. Since pictures can't do it justice, Emfinger also decided to film the entire scene and created a beautiful 45-minute video of the erupting Fagradalsfjall.
These images truly represent nature in its best form and will surely make you want to travel to Iceland as soon as possible.
Storm chaser Brian Emfinger traveled to Iceland to photograph the Fagradalsfjall volcano.

The photojournalist took incredible aerial photos of the crowds watching as lava slowly made its way across the snow.


The volcano has been active since mid-March.