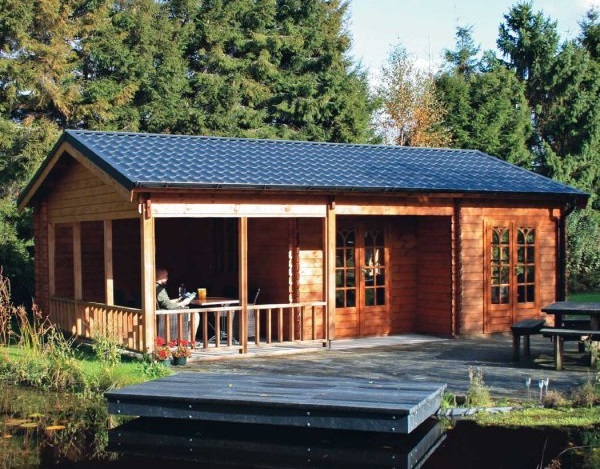 Prefabricated homes have come a long way since the 1900s, when they were more of a post-war necessity, than an investment. Whether you want to downscale your lifestyle and move into a small cabin or you need extra space for your office or studio, the kind of log home featured here is what you would love. The Lugarde Sicily Log Cabin is 5 by 8 meters and with various wall thickness (44mm or 68mm) you can pay up to $16,000 in order to own the whole thing. The people from Simply Log Cabins supply you with a building kit and floorplans and charge for shipping unless you're in the UK. Check it out in further details and be sure to put it on your shortlist of little log cabins.
Lugarde Sicily Log Cabin
Footprint: 5.0m x 8.0m (Flat Side to Flat Side)
Choice of 5 Colours of Felt Shingles Pyramid Roof Only
Wall Thickness: – Optional 44mm/68mm Tongue and Grooved Nordic Spruce
2 x Casement Windows (Opening Outwards)
2 x Double Doors
Glass is Double Glazed
Floor Included
Built-in Veranda Measuring 5.0m x 3.0m
Built-in Canopy Measuring 5.0m x 2.5m
Pressure Treated Foundation Beams
Optional:
Bitumen Felt Shingles
Factory Applied Timber Treatment
Lugarde Sicily Log Cabin: The Lugarde Sicily Log Cabin is a large log cabin with lots of room, The Lugarde log cabin has a built in veranda which is ideal for part out door entertainment providing shelter in rainy or hot weather. The Lugarde Sicily Log Cabin comes with 2 double door entrances and 2 large casement windows, both double glazed. The decorative arches are optional and provide a classic look when finished.