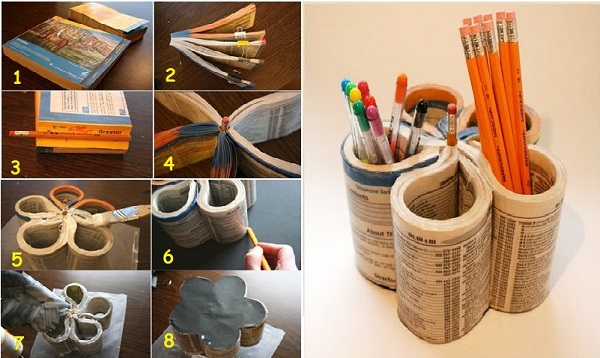 You won't believe what creative minds from the DIY world can create with everyday items found around the house. Look at this interesting project which transforms an old telephone book into a useful pencil holder that kind of mimics the shape of a flower. Here is what you need to do if you want to achieve the same result.
• a phonebook;
• some office clips;
• a pencil;
• a tube of white glue;
• a brush;
• a piece of cardboard;
• a pair of scissors;
First of all, cut the phonebook in half, if it's a large model. With the use of the office clips, divide the pages into 5 same-size parts. Take a pencil and stick it in the middle of the book, just like in the photos, so when you open up and fold back in a semicircle each of the 5 parts, you can form the shape of a flower.
Brush the top side with white glue and let it dry. Cut the cardboard into the flower-shape your phonebook now has when you look at it from one of its ends. This will act like the base of your holder. Glue this to the book as well. Let it dry for a while before using it to the full.