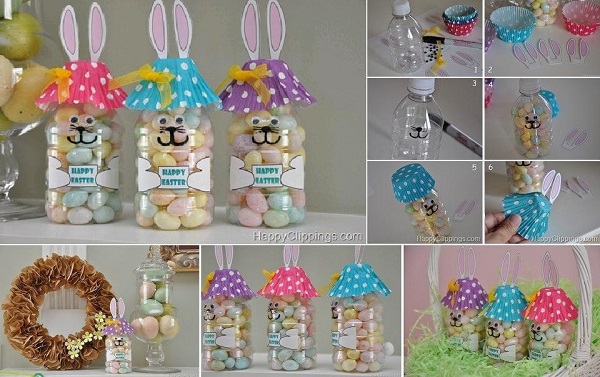 Spring has come, and we won't even notice time passing by and it will be Easter time soon. Make your own decorations this Easter, as you will see that there are plenty of great ideas on the internet. This next on is a cute bunny bottle that will cheer up your home and will bring the Easter spirit in your house. You will need:
• one plastic bottle;
• patterned muffin paper cups;
• a pen;
• paper ears (you can buy them or make them yourself);
• egg shaped candies or chocolate;
• a pair of scissors;
Take the plastic bottle, clean it and remove all labels. Fill the bottle with the egg shaped candies. Take the muffin paper cup and cut two little holes in it, where you will inert the ears of the bunny. After that place the muffin paper cups upside down on the cap of the bottle. Take the pen and draw the faces of the bunny (eyes, nose, mustache, mouth). A simple and adorable decoration! Find the perfect place for your bunny bottle and surround it with fake grass, made out of colored paper.
source: happyclippings.com