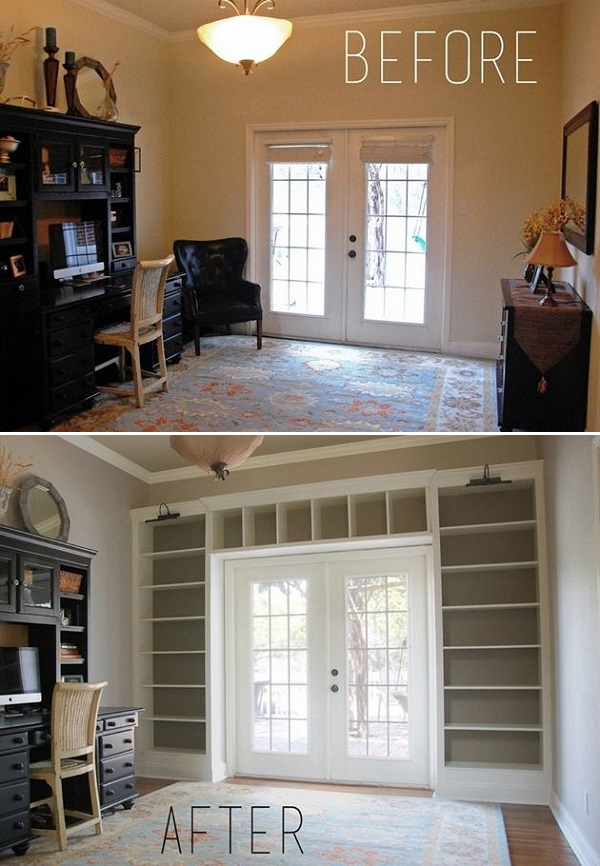 Turn an ordinary and dull wall into a wonderful and impressive floor-to-ceiling bookcase. Of course, for this final result to drop jaws and make googly eyes from all your friends and guests, you need this particular design of the room. Once you have a door going to the balcony right in the middle of the wall, go outside and acquire the next list of items. Then, read the steps carefully and begin the construction.
• a couple of Ikea Billy bookcases;
• one Skinnier Billy bookcase;
• a couple of Ikea Billy Extender Shelves;
• caulk;
• 5 of these L brackets and two corner braces;
• some 2×4′s;

Your wall should be empty of paintings or other decorations before beginning the work. And also, make some measurements to make sure you won't have to cut away from your bookcases in order to make them fit in the space between the wall and door. Then, start the actual project with making sure the shelves are evenly spaced in their bookcases. If not, just do the necessary cuts and reassemble the screws. Also, fill the holes from within with caulk. Then, paint all the shelves of the bookcases in one color. This rule also applies to the extender shelves which you will screw in later. Find more details in the link below..