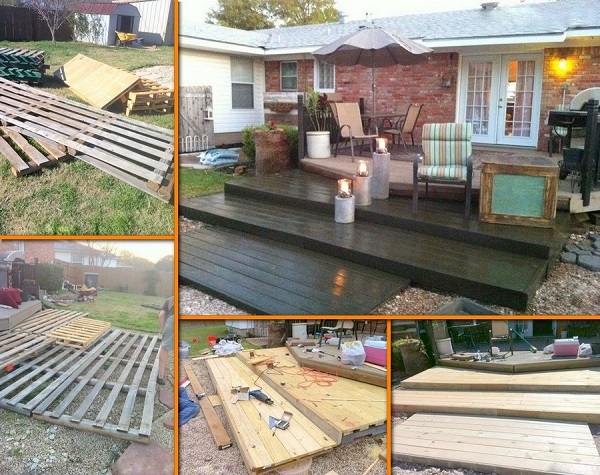 Making use of pallets to improve your home design is something of a trend these days. If you thought of taking this creative step into building but didn't quite make a decision yet, this project will surely change your mind. Here is a step by step tutorial on how to make a DIY pallet deck in one afternoon with only $300. Make sure you have:
• a dozen pieces of pallets (different sizes will do fine);
• drill and screws;
• wooden boards (from the pallets you won't be using);
• a 2 by 6;
• wood stain;
• (optional) 4 by 4s;
First, clear the stones from the courtyard and make sure any pebbles are all leveled. Position all of the pallets beforehand to check out the design and the pieces you will be using. Then, take the wooden board from the pieces of pallets you would eventually dump. Use old flagstones and pavers for the base and if you have some posts on your existing deck, make some cuts to the pallets in order to fit the pallets. Secure the first layer (row) of pallets to the deck, drill the pallets together and fill the spaces in between with wood.
Check all details in the link below…