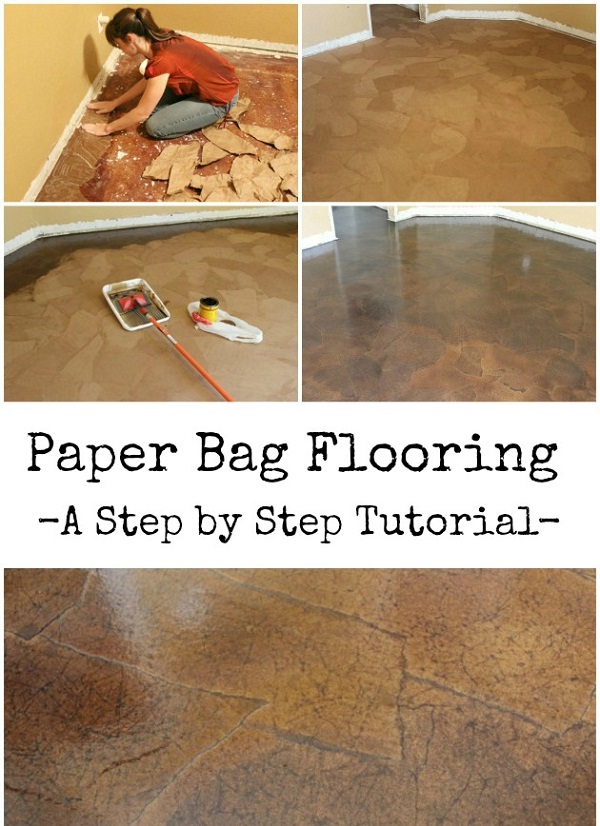 When you think about re-flooring a room, you immediately start to plan the amount of money you will spend, the bulky materials needed and so on. This stage of the process might be so stressful that you would drop the whole project. Before you do this drastic step, there is a cheaper and easier alternative. Here is what you need to have and know about making a floor out of paper bags.
For a wood floor:
• a gallon of Elmers glue;
• oil based stain;
• a 9 inch Shur-Line "deck pad";
For a concrete floor, add:
• a small amount of concrete to patch holes from carpet tacks;
• a pole sander and sandpaper;
Start with cleaning the floors thoroughly. Let them dry before you actually do some work on them. Rip the paper into natural looking shapes, similar to stones. Don't use a knife for this, just rip with your hands. It's recommended you ball up each piece of paper, wrinkle the crud out of it and flatten it out, after ripping. This step will give it an `old leather` look after applying the stain.
Make a mixture of 50% glue and 50% water. Next, take each piece of paper, scoop up some glue with your hands and spread it in an even way on both sides. Place it on the floor and flatten it out to remove bubbles. Remember the paper shrinks while it dries, so try to plan the space accordingly in such a way they overlap. Do this for every piece. A long and hard work, but it's worth it. When you've completed the whole floor, you will get a `natural` look and color which you might like – and avoid the whole staining process. But if you choose to do stain, it will give the floor some character. Apply the stain by using a Shur Line `mop` on the entire surface. This will take about half an hour. Be careful you don't end up with any lines, and be aware there will be little bleed under the edges of the paper.
source and more info –> domesticimperfection.com