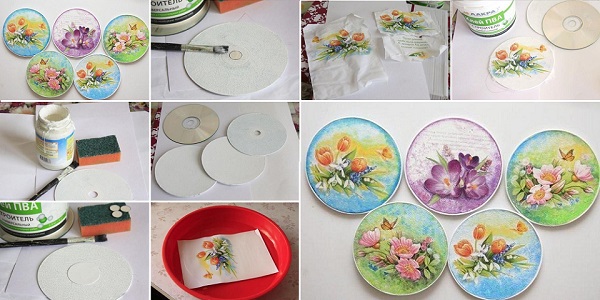 If you were thinking about nice décor, DIY, old, paintings, and CDs, then you've clicked on the right website. You can prepare this next craft in preparation for Easter or as an ordinary weekend activity. It involves the technique of decoupage, which is an easy and fun method of decorating just about anything. You could use this on any household item, like small vases or large pieces of furniture. Here is a project involving CDs. Here is what you'll need:
• a few CDs;
• thin brushes;
• paint;
• a can of varnish;
• a pair of scissors;
• decoupage paper;
• glue;
• thin rope;
• super glue;
• a dish sponge;

At first, cut the decoupage paper into the size and shape of the CD. Stick it to each piece with some glue. Then, take the napkins with your preferred pattern on and soak it for a bit in water. Fashion this piece as well in the shape of the CD. Put it over the decoupage paper and apply some varnish with a brush. Gently rub with a dish sponge when the varnish has dried, in order to remove imperfections. You could color it a bit more if you like. This is the difference between an art work and a plain decoration! Afterward, stick a string of thin rope onto the back side. Hang it on your wall. Make a nice display with a couple of these lovely décor CDs.