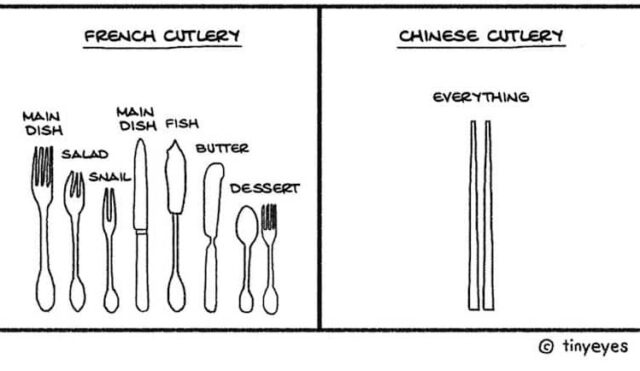 Tiny Eyes is the pseudonym of the Chinese artist called Siyu and her funny illustrations about the differences between Chinese and Western Culture are melting the Internet's heart.
Her chronicles are amusing and honest, as she is translating the thoughts of someone born and raised in Beijing while interacting with people from different parts of the world.
Tiny Eyes has a clean and simple drawing style, and the impact of her work often leaves the viewer laughing and contemplating at the same time. Her work mostly focuses on bringing out cultural differences, while illustrating the two sides of a story on one board.
One of her works illustrates the intricate French cutleries at a dining table while comparing them with Chinese chopsticks, which are used for almost any meal.
Other illustrations comment on dorm life or the life of high school students and the differences between a Chinese student and a Western student.
Tiny Eyes draws inspiration from her own experience as someone studying abroad and meeting lots of new people with different cultural backgrounds.
Follow her on Instagram for more heartwarming illustrations.