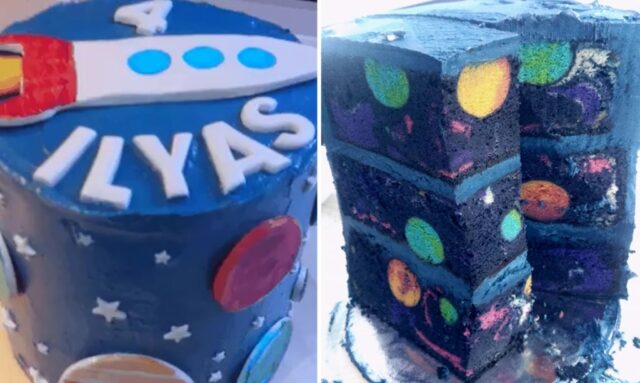 Sci-fi enthusiasts are going to love this next cake, which is also a great birthday surprise idea for someone who loves space. The amazing multi-layered cake was created by Naushee or Pedagiggle, and she baked it for her 4-year old son who loves outer space.
The exterior is decorated with specific thematic, a spaceship, stars, and planets, but once the cake is cut the mysteries of the universe reveal themselves. The interior of the cake is a splash of colors and hides different sizes of colorful planets and a spongy blue inside.
The cake is a vanilla-flavored one and the mom had to get extremely creative to pull this together, since she couldn't find the perfect recipe and had to improvise a great deal. She used food coloring to create the galaxy inside the cake and cake pop molds to make the spheres.
After seeing the result and how amazing the cake turned out, Naushee decided to share the recipe with the rest of the world.
Now anyone can make their very own galaxy cake without having to improvise and start the whole process from scratch. For more details watch the video below…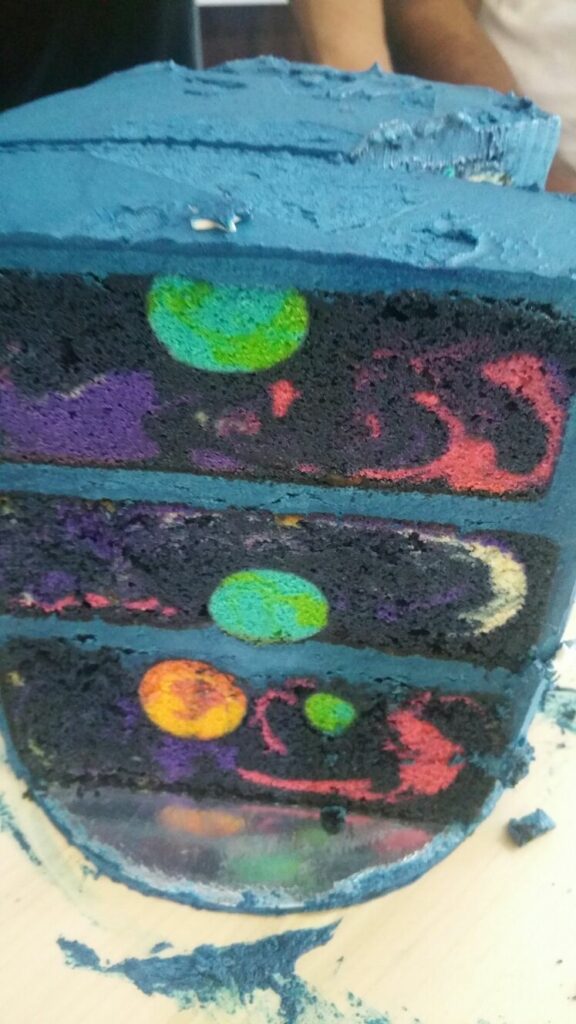 It's a very easy cake tutorial for a galaxy, space, or Steven Universe birthday party!!! I hope you enjoy this amazing galaxy planet surprise inside cake that is decorated Rose Quartz room Steven Universe style.
You will learn:
1) how I bake a universe surprise inside cake [[this is my updated version using a cake pop maker]]
2) how I make and use edible jelly Kohakatou crystals to represent each Steven Universe character
3) how I decorate the cake Rose Quartz room and
4) how I make toppers and add them.