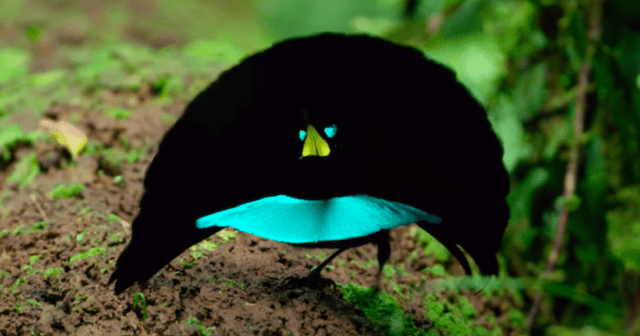 There are so many bird species in the world that teams of researchers are still discovering new species every month, and this is also the case with these unique-looking blackbirds.
The Superb Bird of Paradise or Lophorina superb was discovered in New Guinea and eastern Australia and has strange Vantablack feathers that contribuite to their "rare birds" title. Research led by biologist Ed Scholes and wildlife journalist Tim Laman since 2004 brought a large contribution to documenting the life and different bird-of-paradise species.
Their extraordinary work resulted in the creation of Cornell University's Birds-of-Paradise Project. They recently discovered the Vogelkop or Lophorina niedda in New Guinea.
This bird was originally considered a subspecies of the bird-of-paradise, but after careful observations, a difference in their courtship rituals managed to separate them and establish a new species. What makes both species very similar are their extremely dark feathers that absorb 99.95% of light.
When engaging in courtship dances, they flash their beautiful turquoise markings that create an amazing contrast with the dark feathers.
To learn more about these birds and how to recognize them, scroll through the pictures, and plan a trip to New Guinea as soon as possible.