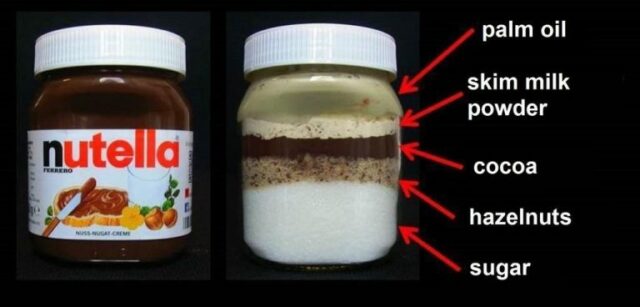 Nutella is one of the most popular spreads on the planet and many know how hard it is to resist those midnight Nutella-cravings. But do you know what goes into a jar of Nutella and what are its main components?
This image of a transparent Nutella jar has gone viral, as it presents the ingredients of the Italian spread and the harmful ingredients it contains. There was probably no secret that this delicious hazelnut-flavored cream contains a lot of sugar, but many seemed to be surprised to learn that it also contains palm oil.
Besides these, the other components are coca, hazelnuts, and skimmed milk powder, but the proportions of the ingredients seem to be the scariest.
According to the chart, more than half of the Nutella jar is white sugar and there is only a very small amount of cocoa and hazelnuts in it. So the amazing taste isthe result of a combo of sugar and vegetable oil and not hazelnuts.
This is very disappointing and alarming at the same time, as a report published by the European Food Safety Authority shows that palm oil is highly carcinogenic. Next time you go shopping and feel like grabbing a jar of Nutella, you should think about this chart and reconsider your choices.