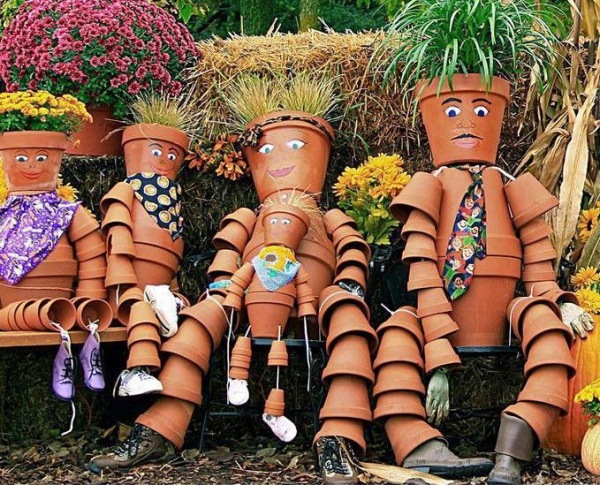 Clay pots are not just for plants. They can be used in a unique way that will definitely transform your home garden into the envy of your neighbors and friends. Take a couple of minutes to make yourself this creative flower pot man. It can still store one plant, as it were its hair, but the purpose of this creation isn't how useful it can be, but how much it can impress visitors and viewers alike. Here are the materials needed:
• 27 flower pots with different diameters: a dozen 6-inch – for the arms; a dozen 8-inch – for the legs; a couple of 12-inch – for the body; and one 10-inch – for the head;
• 12 pieces of 3-inch thick Styrofoam;
• strong wire;
• wire cutters.
Instructions: make holes in each of the pots and pieces of Styrofoam. Be sure they are large enough for the wires to go through, but small so as knots won't be able to cross. Repeat the knotting procedure after each pot and foam you alternately go trough; just imagine you are making a sandwich. Leave room in the wire for the joints. Use the images as guidelines if you like. When you reach the body part, it's important that you position your flower pot man in the place you want it to stay; it's pretty difficult to move it after you complete it. It's recommended you make each half of the body before assembling them. For the inside of the body (with the 2 big pots upside down each other) you won't need Styrofoam. Place the head-pot and free your imagination. Decorate with plants, paint or whatever you feel like. And, it's alive! The flower pot man or woman.