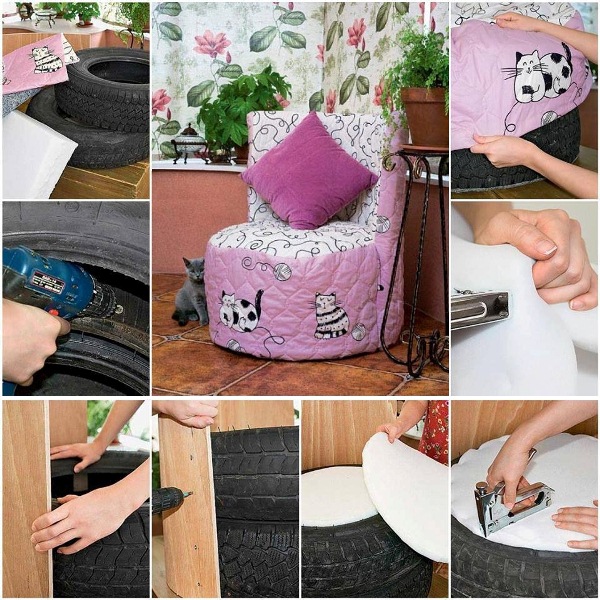 Here's another great DIY project which also involves recycling. We are going to show you step by step how to make yourself a great chair from old tires. What you'll need are two used tires, fabric for covering them (it can have any pattern that you like), some wood palettes, a drill, a stapler and some sponge.
For starters drill some holes in the inside of one tires. Than take the sponge and by using the stapler attach it to the tire. Make sure to cover the inside of your tire with the sponge in order to make the chair more comfortable. Cut the surplus of sponge on the edges and staple a piece of fabric to the bottom of one tire. This will be the part of the chair which will be placed on the floor.
Now take the wooden palettes and drill some holes in them too, this will be screwed to the tire and will eventually be the back of your chair. Cut these palettes as big as you want the back of your chair to be. Then after attaching both tires, take the sponge again and fill out the second tire which is on top and that will be the top of your chair. Again, by using the stapler attach a piece of sponge on top of it so you will be able to sit very comfortably when ready. Cover the hole structure with the fabric of your choice. We've chosen this fabric with a cute cat pattern on it as it will be placed in a kids' room. You will need to have a bit of sewing skills to give the fabric such a shape so to cover the tires entirely and to fit right into them. After covering with fabric, it will be ready and you can enjoy sitting on your new, recycled chair.
More ideas
How to make a stool with empty plastic bottles