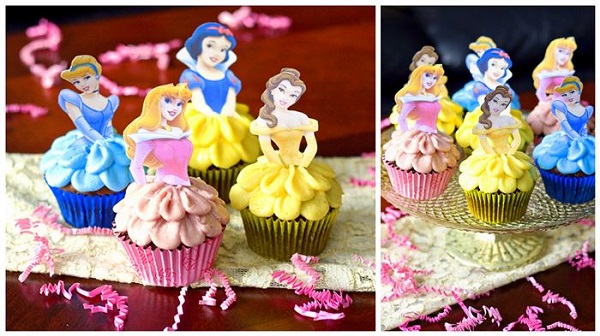 These next cupcakes will definitely have a big success when it comes to children. They are colorful and delicious and the most important part is that they are decorated with Disney princesses. If your kids love cartoons, then you should try and make these cupcakes for them. If there is a birthday party coming up, then keep this recipe close as everyone will simply adore these princess cupcakes. To make this decoration you will need:
• cupcakes (any flavor you want);
• cream or frosting;
• piping bag;
• petal tip (large);
• food coloring;
• pictures with princesses;
• Popsicle sticks glue;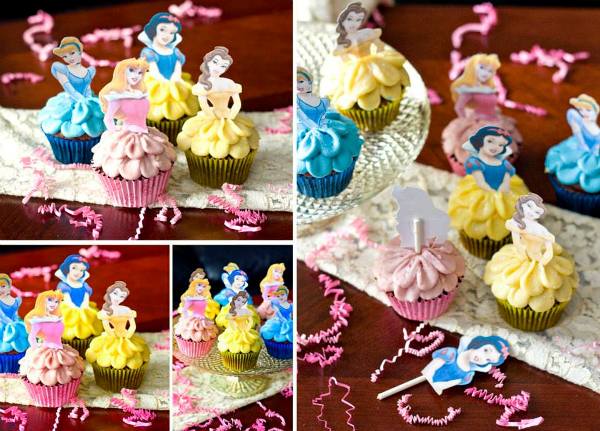 Start with the cupcakes. Prepare them, place them in the oven and let them cool. After that make the frosting adding different colors of food coloring, according to what princess you want to put on the top of the cupcake. Make sure to match the frosting with the color of the dress the princess wears. Print the picture of the princesses on regular paper, but only the head and the top part of their dress. Use glue to secure the pictures on the Popsicle sticks and place them in the cupcakes. Put the frosting in the piping bag and a petal tip and start making the dress of the princess. Start from the bottom and add large petals, then slowly decrease the size of the petals as you reach the top. Place the cupcakes in the fridge for 1-2 hours and that is all. The cupcakes will look really cute and your kids will be very excited about them.
source: Erica's Sweet Tooth