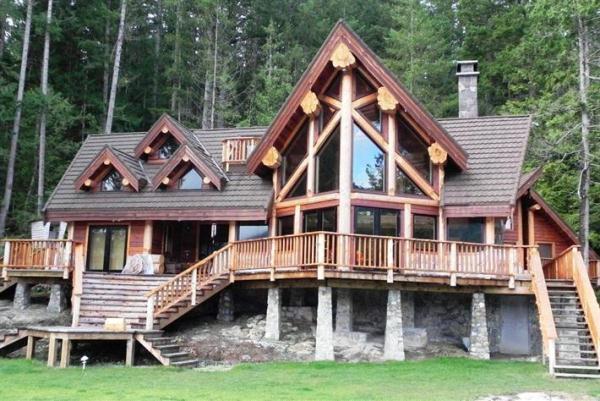 A house in the woods is not a fancy or luxurious fad anymore. People are moving out of cities as the levels of pollution and costs of living are increasing constantly. They often settle in modern wood and glass homes, which are a much better option than a similar contemporary residence downtown. Take a look at this 2.000 sq feet single family detached home, a finalist project of the 2011 Georgie Awards, and you will too reconsider living in the middle of nature. With a very low carbon footprint and all natural wood used in the construction, the rustic luxury residence is a perfect example of style and design mixed together in one architectural project.
The big wooden deck welcomes you to the sharp angled glass-paneled front of the house.
The robust rustic ambiance is achieved by blending hard stone into the foundation and indoors (like the fireplace) as well. The residence has a unique design of the rooms, where the wood makes its presence highly noticed. Sharp angles in the minimalistic decorated bedroom, a rustic yet modern kitchen, and an open big living room surrounded by carefully crafted logs, all add to the feeling that you are in nature's embrace and still can be comfortable. With an inspiring view to the lake in front, and a thick forest in the backyard, it's one of the best rustic and eco-friendly design money can give.