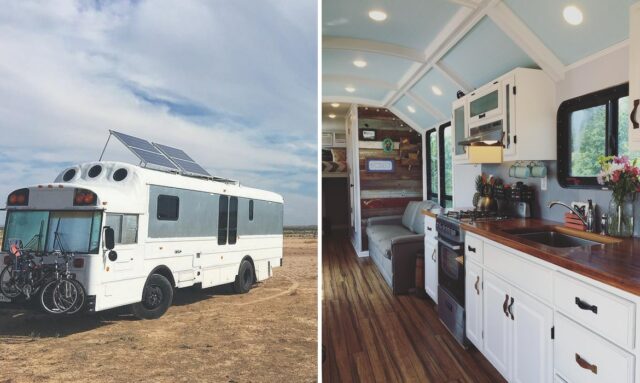 A tiny house can have many shapes and forms, and for those who love adventures, they might also come attached to wheels. There are lots of people who chose the off-the-grid life and don't want to settle upon a single place, so they transform busses into their permanent homes.
This next tiny house idea is a converted school bus, which once the seats are removed from can become a comfy home. Also, school buses are a great option as they are very durable since they are built for the long-run and all types of roads. In comparison to RVs, school buses are more affordable as they cost somewhere between $3k and $7k, depending on their mileage.
This beautiful tiny house inside a bus was built by Will and Alyssa from Outside Found, who are both travelers and bloggers so settling down in a single place was not an option for them.
They converted the school bus in 2015 and transformed it into a 200-square-foot living space. The bus is a 2001 GMC BlueBird and it cost $5,500. Once stepping inside, you are welcomed by a bright and spacious interior, featuring a living area with storage units, a kitchen, a dining area, an office space, and a loft in the back which is used as a bedroom. It looks like the two wanderers have everything they might need in such a tiny space and they even have a tiny garage in the back of the bus for their bikes and kayak. Such a clever idea!