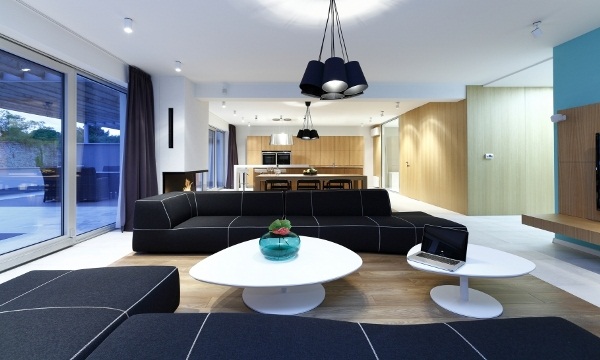 This stylish apartment is located in Bojnice, Slovakia, a town famous for its rich history and great surroundings. The loft was designed in a modern and fresh, and the décor elements create a warm feeling in this space. It was designed by RULES Architekti and this spacious apartment was created by merging two smaller ones. The result is fabulous. The owners wanted a big space with a terrace, which has a great view as the beautiful city of Bojnice can be seen in its entire splendor.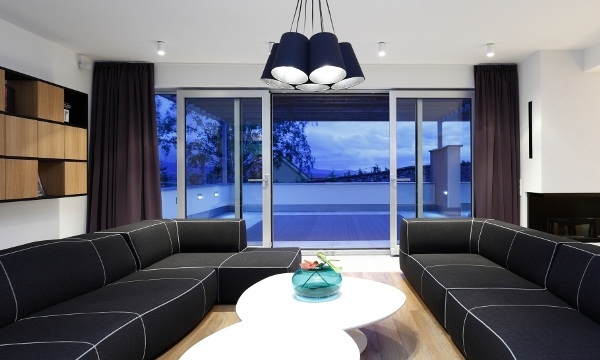 The living room is connected with the dining area and the kitchen and the transition from one space to another is not very clear, thus the whole space has a nice fluidity. This can also be observed in the décor and the elements, such as the wooden pieces and the different shades of blue, which try to maintain the connection between one area and the other.
Also the use of wood and pale colors, create a warm and welcoming environment. The white details on the couches in the living room add a fresh note to this dark piece of furniture. The contrast between the decorations is really nice; you can observe the alternation of dark and light colors and the strong but pleasant contrast between the white floors and the natural wooden elements. The terrace has glass doors which make the transition to the outer space and the dark curtains on the side assure a more intimate atmosphere for the owners. The mixture of surfaces used in the interior (wood, glass and steel) was a nice twist as they give the whole apartment a contemporary look.