Tiny homes are usually eccentric and out of the box, but who says a tiny home can't be classy or modern? Cargo Home is a company based in Texas, which makes elegant tiny homes out of shipping containers.
Their latest design, Helm, was made from 2 stacked shipping containers that serve as a 2-story house. The tiny home can accommodate up to 6 people and is comprised of 2 bedrooms and an amazing rooftop terrace. Its interior was designed using pine shiplap and barn wood beams, which create a beautiful contrast with more modern décor elements.
To keep the house warm, Cargo Home used spray foam insulation and high-quality materials for the doors and windows. If you wish to order your very own tiny home, you can contact the company and choose from 3 different models, one of them being the Helm.
In case you are thinking about testing it first, you can rent a Helm container home at Waco, Texas through Airbnb…
This two-story container home combines a 40' container on the bottom and a 20' container on top. Downstairs you'll find one small bedroom along with bathroom, kitchen, dining and living areas. Upstairs is a master suite with a full size bathroom and giant, full-glass doors that open onto the private upper deck.
A fully equipped kitchen area features granite or quartz countertops along with plenty of cabinet storage. A stove, refrigerator and full-size sink give you everything you need to craft delicious meals from scratch. The kitchen flows directly into the dining area which seats 3 or 4 depending on the configuration of the built-in table. The living area has room for a full-size sofa and coffee table along with optional extra dining area that folds out from the wall.
The interior is paneled with pine shiplap and all the windows are custom-made wooden casements. You will find top-quality craftsmanship throughout this exquisite CargoHome. The rooftop deck is secured by a sleek, stainless steel cable railing system and is a romantic place to enjoy the fresh air and outdoor scenery. Carefully spaced cedar siding clads the exterior of the container, shading it from the sun while still allowing glimpses of the original container beneath.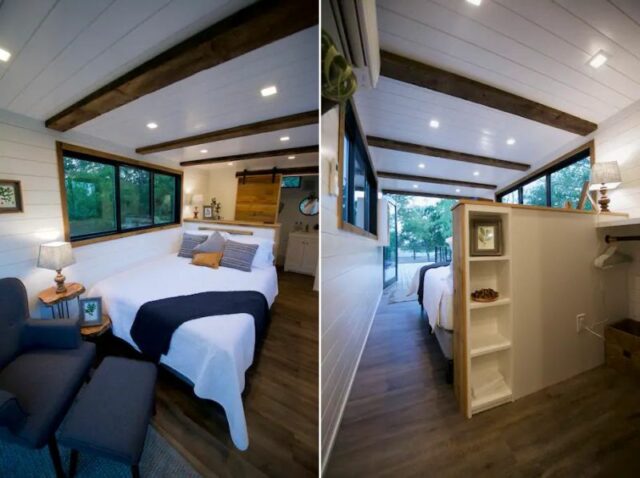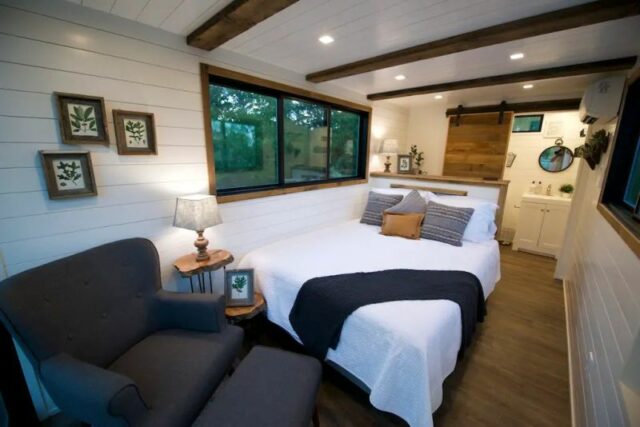 Interested in The Helm? Send a message a here for more information…