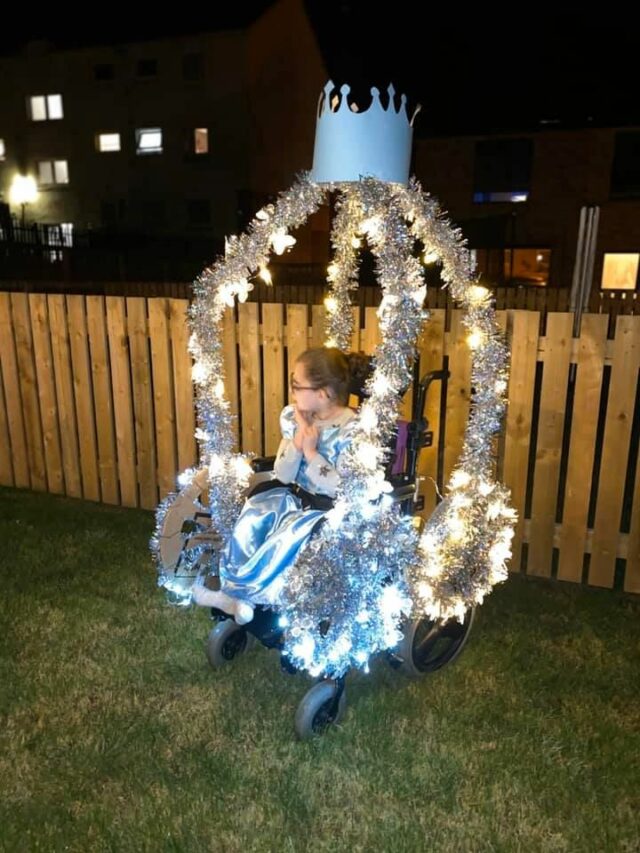 This next story is a beautiful example of dreams coming true and parenting at its finest.
Josh Jaconelli, a Glasgow-based dad, wanted to make his daughter Ava the nicest costume ever and make her feel like a princess. Ava is 6 years old and, in a wheelchair, and retail stores don't have a lot of costume options for disabled children, so the parents need to get as creative as they can.
Luckily, Josh is very ingenious and now is in the race for the prize of the world's best dad. He transformed Ava's wheelchair into the most amazing Cinderella carriage and bought Ava a beautiful blue dress so she would feel like a real-life princess.
To make the DIY carriage, he used plumbing pipes, tinsel, and fairy lights, and the pictures truly speak for themselves. Ava suffers from Aicardi Syndrome, which is a rare genetic condition that affects approximately 4,000 people worldwide.
Because of the disease, which alters brain structure, Ava has frequent seizures and vision problems. Josh is just one of the amazing parents out there who are taking care of disabled children every day and doing their best to make them feel included.
Other parents have made similar DIY costumes for their children, transforming their wheelchairs into cardboard airplanes and even trains.