GoodsHomeDesign is a online magazine for home & design enthusiasts where we present a mixture of carefully edited selection of the best home furnishings, interior designs, architecture and all kind of news from the design world. If you want more details about GoodsHomeDesign.com feel free to check our About Us section.
GoodsHomeDesign.com offers multiple ways to build your brand and get your message to our large and loyal readership. Goods Home Design offers a variety of advertising zones that may be purchased by CPM, the week or a month buyout – payment will be made via Paypal. With an advert on Goods Home Design you'll be in the international spotlight of a superb design & architecture loving audience. 60 % of our visitors are professionals from the design, manufacturer & architecture business. Here are the ways that you and your company can benefit from Goods Home Design's influence:

728 x 90 Banner – This positioning is perfect for catching the attention of the most active users of the site, as well as the thousands of visitors who arrive daily via search engines and links. The banner will appear on all the pages on GoodsHomeDesign.com.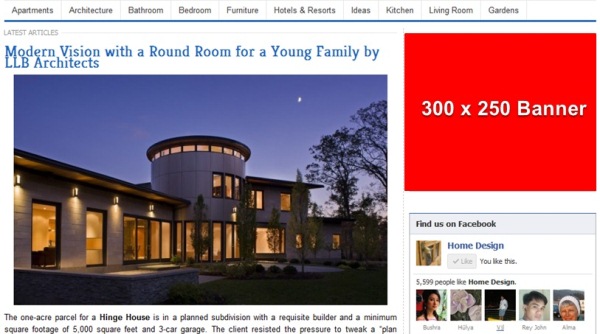 300 x 250 Sidebar Banner – Also a very visible section on the website since the sidebar placed near content.
You decide what ad is perfect for you.
Ready to Get Started?
Contact us now to: [email protected]
Do not miss the offer to buy advertising from us at very low prices and high quality.