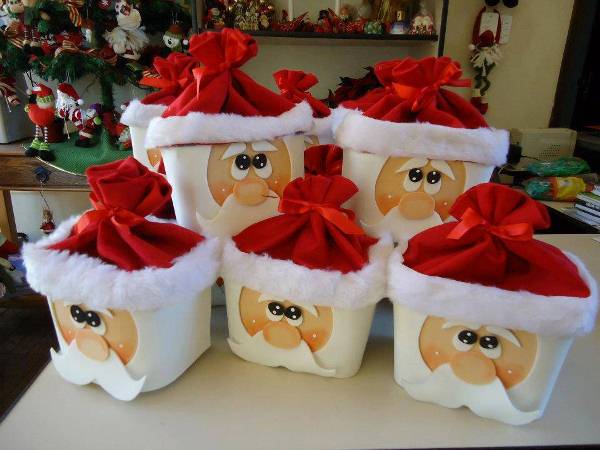 For this Christmas, try to give a new purpose to those used boxes of ice cream. This repurposed ice cream Santa Clause head is an easy DIY activity that will result into a creative gift for the kids and a fun decoration for your home as well. It is also very useful as a gift to little ones because the handmade Santa box can be filled with candy. Here is the list of materials:
• box of ice cream;
• a piece of white and skin color cardboard;
• a smaller piece of blue and black material or cardboard (to make the eyes);
• a Santa hat;
• hot glue gun;
• a pair of scissors;
• a ruler;
• make-up;
Start by gluing the hat on the lid of the box with the hot glue gun. Then cut a 15 cm long by 9.5 tall rectangle of white cardboard. Use the scissors to cut a half moon of the skin color material approximately to the previous size. Use the images for guideline. When you're done, paste the shape on the white cardboard, in order to fashion Santa's face.
Glue together the eye balls. You do this from the smaller pieces of cardboard, cutting and pasting 2 circles of material (one bigger, the other a little bit smaller). Now glue on the face of your Santa. Continue with gluing the whole thing onto the box. You then paint the mouth. To give it a nice vivid look, give Santa some blush. It's done. The children will love it, especially with some candy inside!
Video tutorial