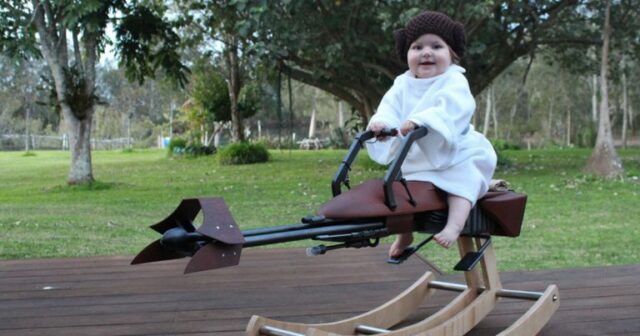 Becoming a parent will change someone forever, as your child will always be put first place and yourself on the second. The happiness of your child becomes the most important thing and you will do everything in your power for your baby. This means, that on many occasions you will need to get as creative as possible.
One awesome dad from Australia built the coolest rocking horse for his daughter's birthday and it was inspired by a 74-Z Speeder Bike from Star Wars. Tez Gelmir, is a huge Star Wars fan and he already made some great toys for his son, but now it was his daughter's turn. He invested a lot of time and energy in building the rocking horse, but it was worth every second as it is now his daughter's favorite toy.
If you feel crafty enough, you can try this project yourself and it will surely be an unforgettable gift for your children. To build the Star Wars-inspired rocking horse, you are going to need plywood, PVC tubing, screws, bolts, and a 3D printer. You will find the step by step tutorial on Instructables.
Full instructions on Instructables