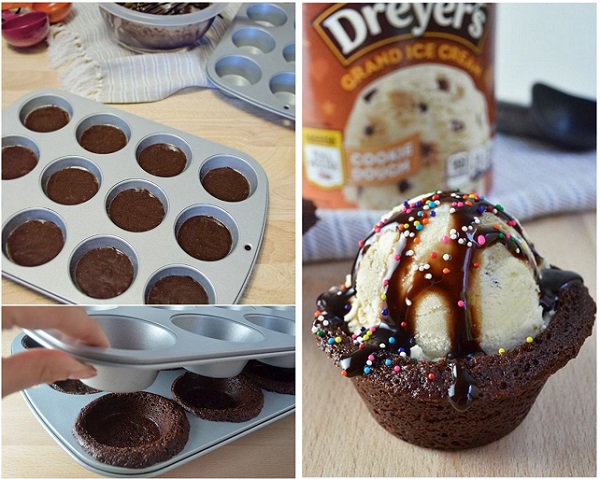 Walking by those pastry shops windows make your mouth water as well? Do you wish you could be able to prepare pieces of dessert like those right in your home? If you're determined, we could help you with this quick and simple recipe for a Brownie Bowl Sundae. Perfect for any event or gathering at your place, this delicious dessert will be the center of attention. Read the full tutorial on what a cool dessert you can make with only a couple of muffin tins and some cookie dough light ice cream. The entire list of ingredients is available at this website as well with the step-by-step instructions. A quick tip before you click away and begin your awesome baking experience: before removing from the tin and adding the tasty ice cream, remember to check the muffins to be completely cooled. Now, serve with some sweet sprinkles on top and enjoy!
You will need:
Cookie Dough ice cream
Brownie batter (made from your favorite recipe)
2 muffin tins
Cooking spray
Chocolate sauce
Sprinkles
Directions
1.Follow the directions for your favorite brownie recipe to make the batter.
2.Spray cups of a muffin tin with cooking spray, and add brownie batter to each cup until they're about two-thirds full.
3.Spray the second muffin tin with cooking spray and place on top of the first tin of brownies.
4.Place in the oven and bake, following your brownie recipe's directions.
5.After the bowls are completely cool, add a scoop of ice cream, top with chocolate sauce and sprinkles, and enjoy!