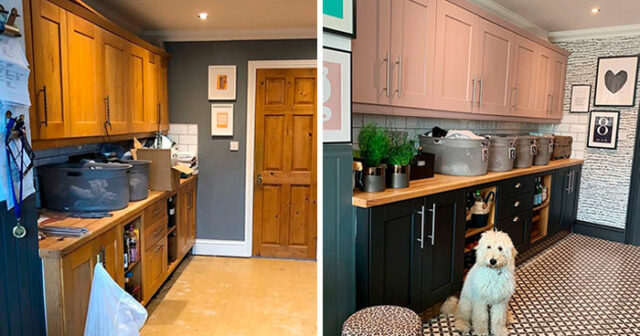 Lockdown was a time for self-reflection and discovering new hobbies. Since there was plenty of time to experiment and do art projects, a 12-year old girl from Kent, United Kingdom used this period to redecorate the family home and the results are amazing.
Susie Levache said that her daughter Bea is a very creative and energetic girl, so she wanted to do something with all her extra time while being locked inside.
It all started, when she complained about being bored so her mother asked her to help with some wall measurements. She showed her how to use some of the tools around the house, such as a handsaw and Bea quickly became a pro in redecorating and building new things around the house.
She redecorated the entire kitchen, redid the design in the office, painted the cupboard, and put new wallpaper on the walls. She did all this amazing work by investing only $120, her spare time and imagination, and transformed the entire family house into a place worthy of design magazines.
The pictures speak for themselves and will inspire anyone in need of cool home decor ideas.