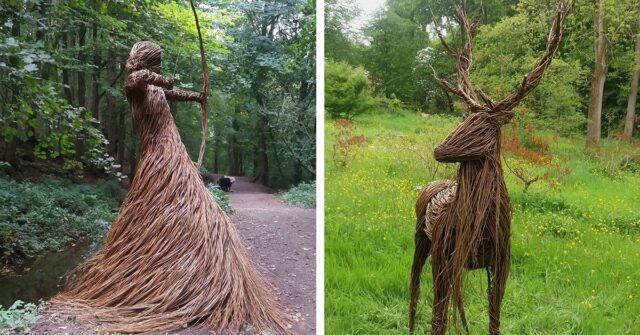 Basket weaving requires true craftsmanship and it is one of the arts that dates back to centuries and was present in different cultures around the world.
British sculptor, Anna & the Willow mastered the art of weaving and added a contemporary approach to it, creating amazing sculptures in England's forests. Her works of art are made from rods of willow and are lifelike sculptures, such as her 9-foot tall work named The Huntress of Skipton Castle Woods.
Anna first discovered her passion for willow 10 years ago, when she enrolled in a sculpting course and the possibilities of working with natural material seemed endless to her. She also makes woven baskets and more traditional objects, but her large sculptures are the ones showcasing her immense talent. Placing her works in the English forests, Anna creates a melange with nature and her characters are blending beautifully with the surroundings.
To learn more about her amazing work, you can follow Anna on Instagram or join one of her workshops in North Yorkshire, England.