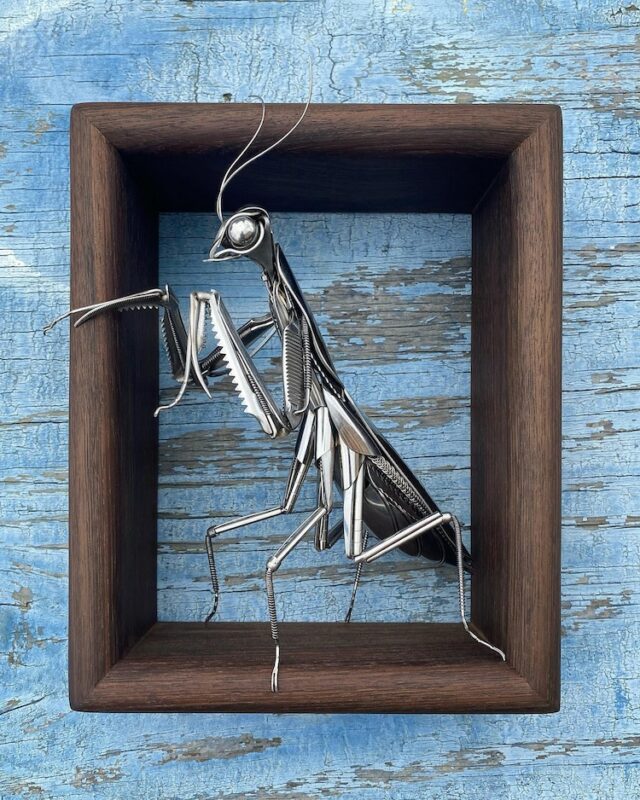 They say that one's trash is someone else's treasure, and Matt Wilson is here to prove this with his works. He is a sculptor who creates beautifully unique pieces out of scrap metal and silverware and loves to upcycle old items.
Wilson is based in Carolina and goes by the pseudonym Airtight Artwork. Most of his works represent animal sculptures and his very first work was a bird sculpture that he made in 2017. Since then, he extended his collection, which now includes cats, squirrels, and even insects, all looking futuristic and almost robotic.
One of his most stunning pieces is a large praying mantis which is made out of silverware and took him one month to complete. Even though Wilson started experimenting with different animals, his most well-known pieces are his bird sculptures.
For these, he uses spoons and other metal pieces to create the layers of feathering and recently uploaded 100 pieces of bird sculptures to his online shop.
If you would like to invest in such an amazing work of art, visit Wilson's online shop and order your favorite metal sculpture right away. It will surely be a statement piece for your home.