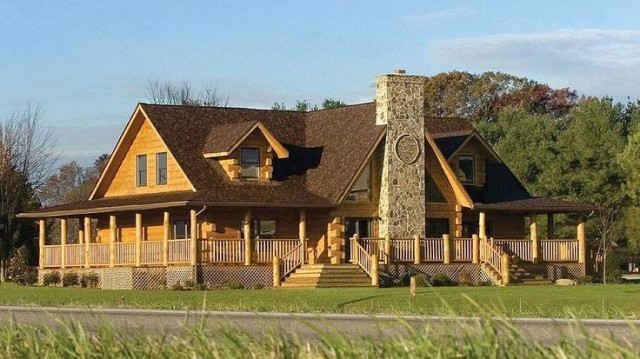 Take a virtual tour of this lovely house. You can now see both the exterior and the interior of the Sweetwater Log Home. This home is great for family gatherings since it's built with two floors, and equipped with 4 bedrooms and 3 bathrooms, thus large enough to accommodate many of your friends and family members. Furthermore, it features a huge porch, at 1274 square feet. After entering you will discover a spacious and beautiful dining room. The kitchen is quite big as well, situated right next to the dining space. The dining room will open into a large great room, which has an incredibly rustic fireplace. There is a master bedroom, furnished and equipped with a huge walk-in closet (10'-10'' x 11'-2'') and a private bathroom. On the first floor you can also find another bathroom that is open to everyone, and a utility room close to the kitchen.
On the second floor the stairs will lead you to a roomy loft, at the left and the right of it being situated two large bedrooms, the perfect place to read your favorite books near to the windows. Actually, the house has plenty of windows that brighten every room with natural light.
A log home can provide you with the best experiences. Living in the middle of the nature, surrounded by birds and other animals, while also breathing the cleanest air, can be quite amazing, especially if you find a place like this. This lifestyle will definitely suit those that are usually really stressed and are not enjoying life to the fullest.
Check out the video bellow for a virtual tour of this lovely log home.