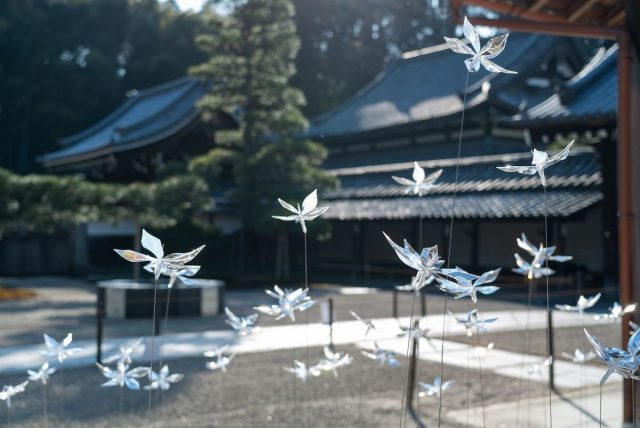 These translucent flowers are not an optical illusion, as they are the creation of the design studio LUCENT by Takahiro Matsuo.
The floating flowers are part of a garden installed at the Rakuchu Kansei Art Exhibition in 2021.
The installation was named Transparent Flowers and the illusion of the blooming flowers was created by attaching them to steel wires. LUCENT's work can be found in the Sennin No Niwa Garden which is a creation of Mirei Shigemori, a contemporary Japanese landscape artist.
The studio's minimalistic design is an homage to non-invasive art and adds a new twist to the garden, by creating something fragile but still impactful. The beauty of the flowers is emphasized by the translucent petals that reflect light and the surroundings and create a smooth blend between them and the environment.
This is not Matsuo's first work using light and refractions to build one-of-a-kind installations, and he often uses technology and programming to give a new twist to modern art. He aims to draw the viewer's attention to the objects he creates and encourage them to interact and vision them outside their habitat.
If you like the idea of art blending with technology, LUCENT's website features the studio's works and you can browse through them to see a new approach in designing contemporary installations.