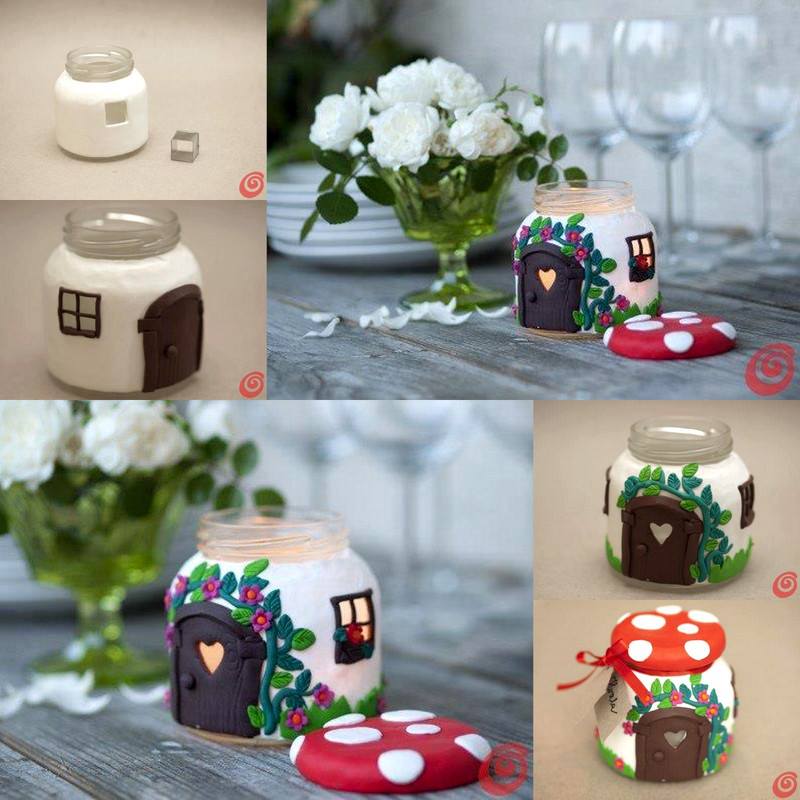 Here is an innovative idea for a gift. We assure you that, in the field of presents, it will be the first one of the kind. You can do it yourself by following some simple steps presented in detail below. You'll see how a little canning jar can easily become a candle holder. 'Ingredients': an empty canning jar with a lid, various colors of pasta polymer clay, wax candles, a wick, cookie cutters, knife, rolling pin and… a little bit of patience.
The first step is to cover the jar with the polymer clay. Roll out the pasta and cover the outside of the jar with it, from the bottom to the top. In order to obtain a smooth surface, be sure to uniformly cover the jar with the polymer. Don't you ever forget to wash your hands after working with polymer clay – it can be toxic!!
With a mold for cookies (in the absence of this, we can use a knife) cut out two or three openings for windows and one for the door. Using another color of pasta, you will do the jambs. With the brown paste, we model the jambs, the door and the frames for windows. On the door, apply a ball that will be the handle, and plow the surface of the door so as to obtain a wood effect. With the help of a cookie mold, we cut out a heart shape for the door, in order to decorate our little house. Process the green dough so to create a small edge of grass and decorate the base of the jar by applying it. Use dark green and apply it all around the posts of the jar. By using small pieces of dough and by the aid of a knife, we form twigs and leaves. You can also add a few light green leaves to get a more realistic effect. Now you can start making some flowers out of polymer, by using as many colors as you can, to make your house look cute. The lid of the jar will be the roof of the house. Cover the lid with some red colored pasta and apply white dots on it – this way, your house will look like a mushroom in the end. Finally, you will have to harden the pasta -for this, put both the jar and the lid in a preheated oven at 130 Celsius degrees for about 30 minutes. (It is important to observe the instructions of the manufacturer, because if the temperature in the oven is too high, the pasta releases toxic vapors.) Let everything cool down, then (if you want) you can apply a top coat of varnish. When the jar has cooled down, pour the melted wax there and place the wick in the center. Once the wax has cooled off, your candle will be ready. You can just tie a nice ribbon around it and then your DIY gift will be ready.
Photo credit: casaetrend.it