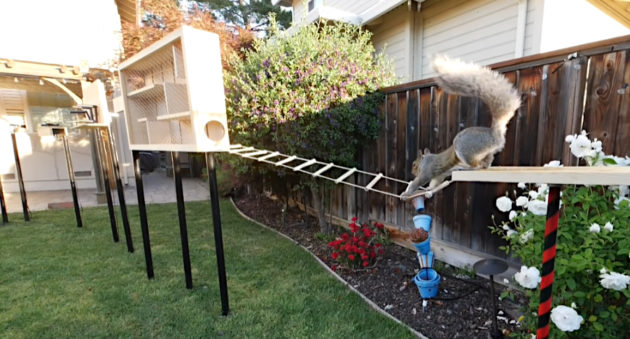 A bird feeder in your garden is such a nice idea as you contribute to the well-being of the bird population in your area. But if you live in an area with a forest near-by, then squirrels might give you some headaches when they visit your garden.
Youtuber Mark Rober had some problems with squirrels always entering his backyard and stealing food from the bird feeder so he solved this issue with the help of science. He even managed to catch the tiny squirrels on camera while in action to study their methods and started to design the squirrel-proof bird feeder afterward.
Seems like squirrels are very acrobatic and clever, so he had to come up with a great plan to trick them. Rober built an intricate system together with his friend, John using his knowledge of mechanical engineering.
His machinery is an obstacle course, through which each squirrel needs to crawl across to get to the food. All the contraptions are squirrel-friendly, so they won't get harmed while climbing onto them, but their purpose is to prevent them from getting close to the bird feeders.
To learn more about each mechanism and the story of how Rober built the squirrel proof bird feeder, watch the full video, and prepare to be amazed.