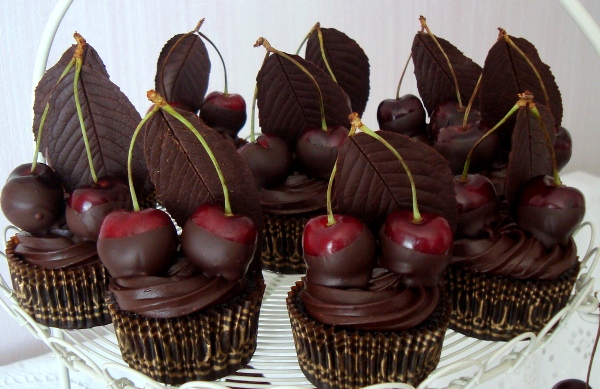 Everyone loves chocolate, right? And almost everyone loves cupcakes. So here is a great recipe that combines these two and makes your day sweeter. These cupcakes are the perfect for any occasion. You can bake them for your family, friends or even for your special one.
Chocolate Cupcakes
Ingredients
​2 2/3 cups all -purpose flour
2 1/2 cups granulated sugar
1/2 cup cocoa powder
1 1/2 teaspoons baking soda
1/2 teaspoon salt
3 large eggs, at room temperature
1 tablespoon vanilla extract
2/3 cup sour cream, at room temperature
10 tablespoons butter, melted and cooled
2/3 cup corn oil
1 1/4 cups ice-cold water
Directions:
Preheat oven to 350F. Line the cupcake pan with the papers liners. Sift together the flour, sugar, cocoa powder, baking soda and salt into a medium bowl. Whisk to combine. In another bowl whisk together the eggs until blended and now add the sour cream and vanilla extract until blended. Set aside.
In the bowl of an electric mixer, mix the melted butter and oil together at low speed. Add the cold water and mix to blend. Add the dry ingredients all at once and mix for one minute. Add the egg mixture and mix for one minute more, scraping down the sides of the bowl as necessary. Fill cupcake pans only 2/3 of the way filled and bake for 17-20 minutes. Every oven temperature is different. Keep checking and insert with a wooden toothpick to check.
Decadent Chocolate Frosting
Ingredients
1/2 cup butter
1/4 cup shortening
1/3 c unsweetened cocoa powder
2 cups confectioners sugar
1 tablespoon milk
1 cup hot fudge topping
Directions:
Cream the butter and the shortening. Sift the cocoa and the confectioners sugar and add to the creamed mixture. Add 1 tablespoon of milk to keep the mixture smooth (if you need another, add 1 tablespoon more at a time). But wait to do it until the end. Now add the hot fudge topping and the vanilla extract. Beat until smooth and creamy.
Dip maraschino cherries into 1 cup chocolate chips that have been melted in microwave. Place on wax paper to dry and top your cupcake!
Photo credit: Heidi