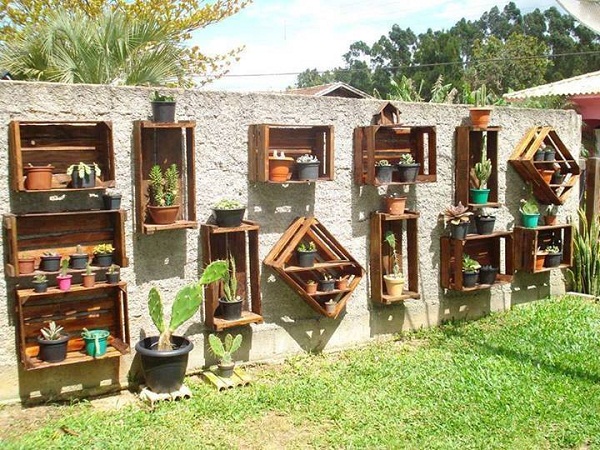 Finding the perfect storage units for a garden can be a hard task, especially when you have a lot of things which need to be kept in order. A great idea would be to use old boxes /crates that you don't need for other things and have been lying in your basement for a while. If you have a wall in your garden or a plain wall on one side of the house, you can install these storage units in no time. You will need a drill and some needles.
1. First of all clean the boxes and make sure there is no dirt or spider web left in them.
2. The next step is to drill some holes in the wall on which your boxes will be placed. Find the perfect spot for each box then start drilling. You can place the boxes on the wall in any position (horizontal, vertical or diagonal).
3. Place the needles in the holes you just drilled.
4. Now you can install the boxes on the wall, by hanging each one in the place that was meant for them. These kinds of boxes usually have a structure at the back which makes them easy to be hanged on a wall, but if not you can fix them with the help of wires.
5. And that is all. Now you can start searching for things to place inside these boxes. The most simple would be to place flower pots as they will make your garden look nice and natural.