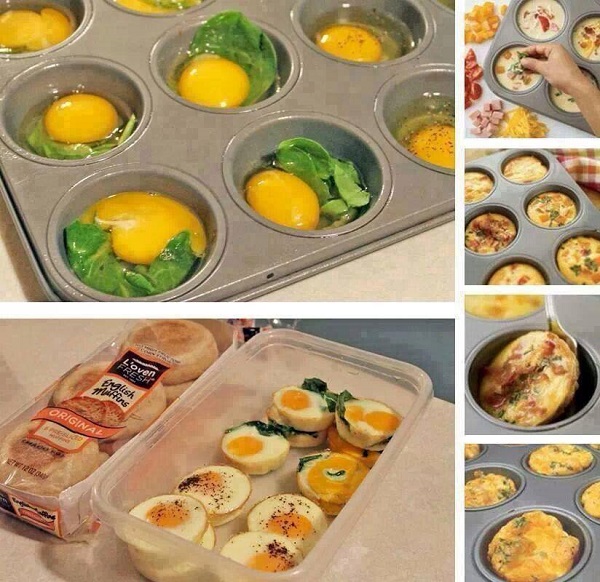 When those mornings are so hard on you, breakfast is the last thing on your mind. We recommend you this DIY Delicious Breakfast Egg Muffins. Suitable for days you wish to spend little time in the kitchen and also when you need to feed more than one mouth. And that's not even the coolest part about this recipe, but the fact that you could keep the muffin eggs for a perfect use the next morning. Here is what ingredients you will need for this recipe:
• a dozen English muffins;
• a muffin tin;
• a dozen eggs;
• lettuce;
• a cup and a half of `Bisquick` mix;
• half a cup of milk;
• 3 tablespoons of veggie oil;
• half a cup of ham (diced);
• half a cup of Cheddar (shredded);
Follow the instructions:
Prepare your tools for the awesome breakfast: spray the muffin tin and preheat the oven (400 °Fahrenheit). Take the eggs and break each into a muffin cup. Don't forget to place a leaf of lettuce in all of the cups. Now, mix the milk with cheese, the `Bisquick` and ham into a large bowl. Transfer scoops of this mixture (once it's all well combined) with the help of a spoon into each muffin cup equally. Place the tin in the oven for 18 – 22 minutes. Check to see if the muffin has turned golden brown and take out from the oven. After 5 minutes of letting them cool off a bit, remove from the tin and place between half-cut muffins. It's delicious!