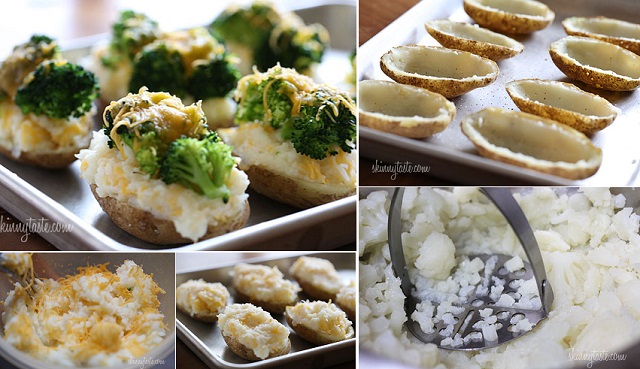 Eating healthy could be a real trouble when your family is used with a meat rich diet. So the clever thing to do is slowly introducing healthy dishes or side dishes in the daily eating routine. We think this broccoli and cheese twice baked potatoes will do the trick. Not all veggie but with a consistent amount of broccoli and cauliflower, this recipe will make healthy ingredients something familiar to the table. With no more than 30 minutes to make these, it can soonbecome a regular side-dish. The gluten-free and vegetarian characteristics make it even more attractive for those who want a healthier diet. All the measurements of the recipe featured here make up for 8 servings. Follow carefully the instructions for baking and decorating; it's not hard to make but any detail will make the difference between a regular dish and one which you will gladly ask for another serving.
Twice Baked Super Stuffed Cheesy Potatoes
Servings: 8 • Size: 1/2 loaded potato • Old Pts: 3 pts • Weight Watchers Points+: 3 pts
Calories: 146.5 • Fat: 3.5 g • Protein: 8 g • Carb: 23 g • Fiber: 2.5 g • Sugar: 1.5 g
Sodium: 152.5 mg (without the salt)
Broccoli and Cheese Twice Baked Potatoes – Ingredients & directions
RECOMMENDED FOR YOU….