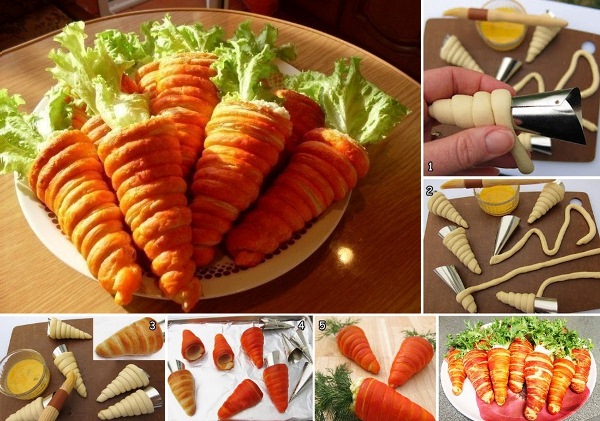 Discover an amazing salad, easy to prepare and incredibly tasty! All you have to do is follow the steps below, and maybe even in this weekend you can surprise your friends or family with this creative recipe.
Ingredients:
1.For cornets:
– 500 g pastry dough;
– Carrot juice mixed with tomato paste;
2.For salad:
– 2 pieces of chicken breast;
– 2 fresh cucumbers;
– 2 eggs;
– 1 onion;
– dill;
– mayonnaise;
– parsley;
Preparation:
Cut the pastry dough into strips about 1 cm wide. Make cone-rods from cardboard sheet and then roll the dough strips on them. In this way you will obtain "carrot" forms.
Put the "carrots" in a tray and use a brush to grease them with carrot juice and tomato paste, then bake in oven until they get brown. Remove the cardboard and brush the "carrots" with some orange food coloring. Bon appetit !