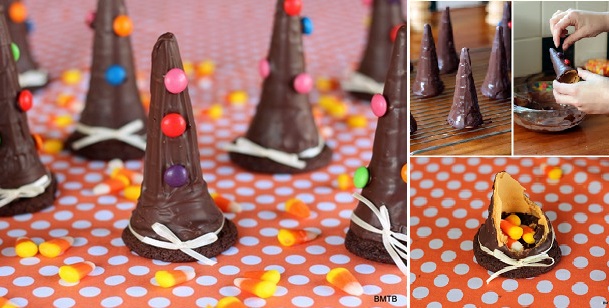 Here's a fun idea for a Halloween party that will help you set the right atmosphere and delight your guests. Surprise everyone with these chocolate witch hats that have a secret ingredient hidden inside. At Halloween there are lots of people who choose to dress up as witches, so it is a popular motive this time of the year. So these cute deserts will match perfectly with the party outfits as you will surely find at least one witch costume in the room. To make around 15 hats you will need: midnight cookies, 15 small ice cream cones, melted dark chocolate, mini M&M's, candies. You will find the recipe of the midnight cookies on the link below, as these will be the base of the hats.

Chocolate Witches Hats Ingredients & Directions provided by Baking Makes Things Better
RECOMMENDED FOR YOU….