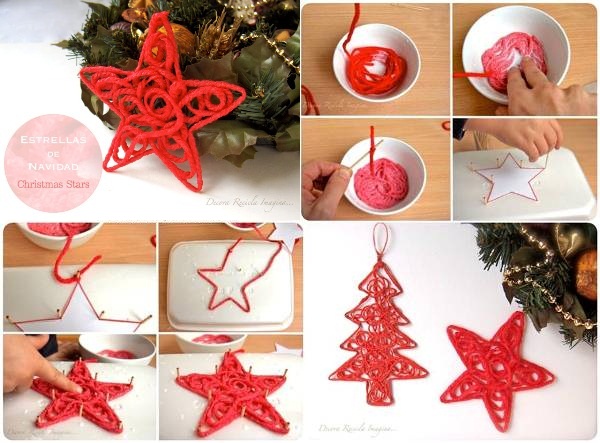 Christmas is only a month away and people are getting anxious. Shops around the world are getting filled with all kind of toys and decorations. People also start to buy food to prepare the most delicious dinner in the whole year. Let's put away hunger for now, and focus our attention on the Christmas decorations, because you can save a lot of money if you make them at home; and you will have fun as well, in the meantime.
Try to make this simple and stylish Christmas star ornament. You will only need:
some wool;
a polystyrene tray (you can take one from the supermarket);
toothpicks or wooden sticks;
white glue;
a star template previously drawn and cut out of a piece of paper;
First, soak the string of wool in some glue mixed with water in equal parts. Mark the edges of the star on the tray with some sticks. Don't forget to remove the template after placing the last stick that will have to be knotted wool. Now, pass the wool on the inside and out. Then fill in circles and press with your fingers to make it flat.
Don't take much time for this process, because the glue will dry. Carefully remove the toothpicks before it dries completely so you can use it without them afterwards. You could use some cream or Vaseline on the tray before, but this is a drastic measure, that you won't have to apply if you work at a normal pace.
As you can see, this technique can be used to make many types of Christmas decorations. Try bells, hearts, or something else that transforms your room into a unique and original holiday mood. Merry DIY Christmas!
Source: decorareciclaimagina