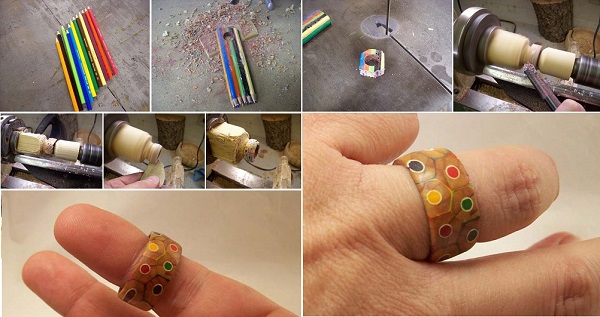 When you think about making a unique piece of accessory for a friend or a loved one, remember this simple photo tutorial. Choose the creative way and make your very own colored pencil ring. With as little as a pack of colored pencils and some glue as main materials, you will succeed in making a beautiful DIY project. Although the whole manufacturing process needs a lathe to be used, the final result will impress the owner of such a unique accessory. Read the instructions provided and you will be able to fashion a beautiful ring like the one you see in the picture. Make sure you take your time polishing and applying lacquer in the end in order to have the best looking ring. Blend a simple technique with art and make this DIY colored pencils ring in no time. It's really amazing..
Click on image for larger view
This project belongs to Peter Brown. If you'd like a colored pencil ring of your own or other custom wood products, visit Peter's shop on Etsy.