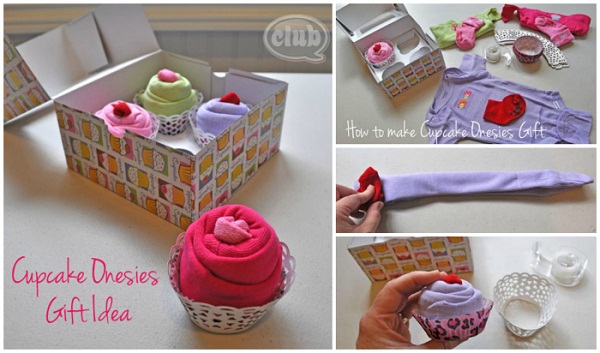 Giving the perfect gift takes more than acquiring the product of the receiver's dreams. You need a perfect wrapping as well. And this creative idea to use at a baby shower will surely impress everyone. In order to make a cupcake onesies gift box, you will need:
• a cupcake gift box (I found mine at my local Michaels store)
• cupcake liners;
• four onesies;
• two pairs of baby socks;
• transparent tape;
• a piece of ribbon;
First, take each piece of baby clothing and fold them lengthwise. Afterward, take a sock and leave its toe-top pop above the very thin long piece of onesie. In order to make the special shape of a cupcake, just roll the sock in a tight manner in the middle of the onesie. In this way, the cherry is represented by the sock, and the whole cupcake is the swirled onesie. At this point, apply a piece of transparent tape on the rolled onesie `cupcake`. Put each in the cupcake liner and wrap, and then place them in the cupcake box. Decorate nicely with a ribbon and make someone's day a little bit nicer.
source and more details –> club.chicacircle.com