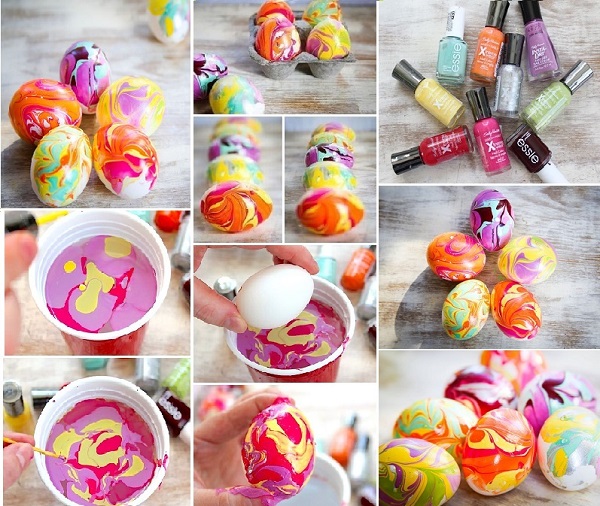 This Easter, use your creativity and decorate the Easter eggs using nail polish. It will make them look special and nonconformist and all of your guests will be surprised by how good your Easter eggs will look. You will create a marble effect on the eggs by using a few things you already have at home. To make the decoration you will need:
• eggs (boiled or empty);
• nail polish (different shades);
• toothpicks;
• plastic containers;
• a ribbon;
• rubber gloves;
First boil the eggs or empty them, by making two holes in the egg and blow the interior of it out with a straw. Place water in the plastic container. Bring the water to room temperature otherwise the nail polish won't fix on the eggs. Pour nail polish in the water and take the toothpick to make swirls in the mixture. Put on the gloves and take one egg in your hand. Place the eggs in the container and leave it there for 1-2 seconds. After the eggs are dry, you can tie a ribbon to them and place them in a nice basket filled with freshly cut grass. You can also make an Easter tree by hanging the eggs on it.
source: henryhappened.com