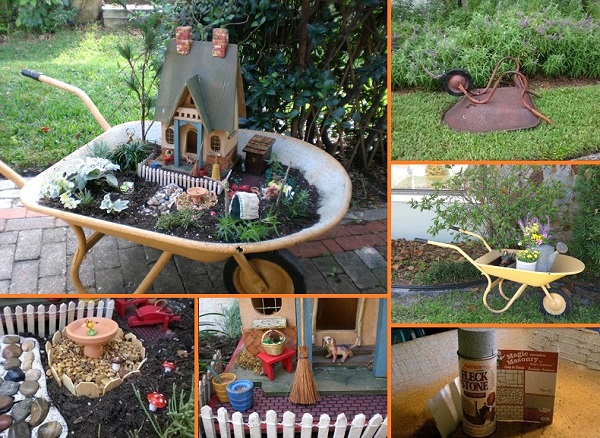 Improve the decor in your garden with a simple and easy DIY project. You see in the magazines and across the internet that people often go to great lengths (financially and otherwise) to change the interior design for the better. But actually, all they need to do is pay attention to the little things and create stylish pieces of decorations. This DIY Wheelbarrow Miniature Garden is the perfect example of that. And the great thing is you can use the things already found in your yard, like an old wheelbarrow. Don't worry, the rust holes will prove very useful as drainage holes. So, here is the list of items you will ned to finish the project:
• a wheelbarrow;
• soil;
• plants;
• paint;
• a piece of cardboard;
• fleck stone spray;
• a birdhouse;
• a pie basket riser;
• plastic roll Christmas village supplies;
• a bunch of miniature figurines;
• (optional) glue;
Start by giving a new coat of paint to your wheelbarrow. Once it has dried up, pour the soil in and position it in the place you would like to see impress guests and friends. It can be moved later on, but it's harder with all those pieces on. Then, transform the cardboard into a small garden `wall` with the help of the fleck spray. Put the birdhouse on a pie basket rise and start adding the miniatures. Also, use the plastic roll as a `brick flooring` for your small garden. According to the level of detail you want to work on, you could stick as much as you want to the scene. A mini outhouse will definitely grab some smiles. Decorate with plants and twigs and your work is done!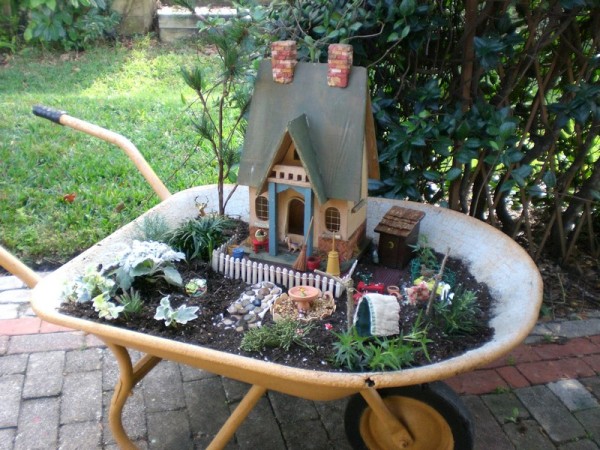 source: Red Shed Vintage