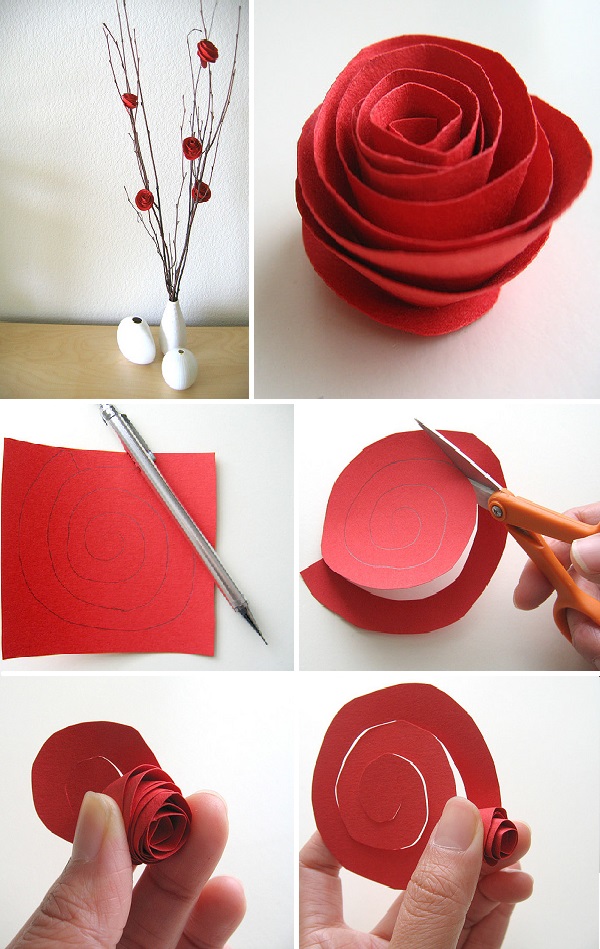 Wouldn't it be great if you could make flowers in the comfort of your home? We're not talking about gardening, but handcrafting! With this tutorial, you will learn the trick of transforming an ordinary piece of paper into a lovely flower. Decorate your house with a stylish display of paper flower arrangements. Here is what you need to do and have:
• many small rectangular pieces of red paper;
• a bunch of sticks from outside;
• a pen or pencil;
• a pair of scissors;
• transparent tape;
• a couple of vases;
The technique is fairly simple. It involves cutting the paper first into small rectangles, according to what size you want your flower to be. Then, draw a spiral with the pencil on the small pieces of paper. One piece equals one flower, so plan wisely. Next, take the scissors and begin cutting from the outside in, just like in the image. Now, while holding in your hand, use your fingers to roll it inward, beginning with the outside. Continue till you reach the end of the paper. Place it with tape on sticks you can find in the backyard. It's amazing how from a simple piece of paper a few minutes earlier, you got a complex bulb of flower. Repeat the steps for as much flowers you'd like your display to have. Put them into vases and brag about your amazing skills every time you have your friends over.
source: dozidesign.blogspot.com