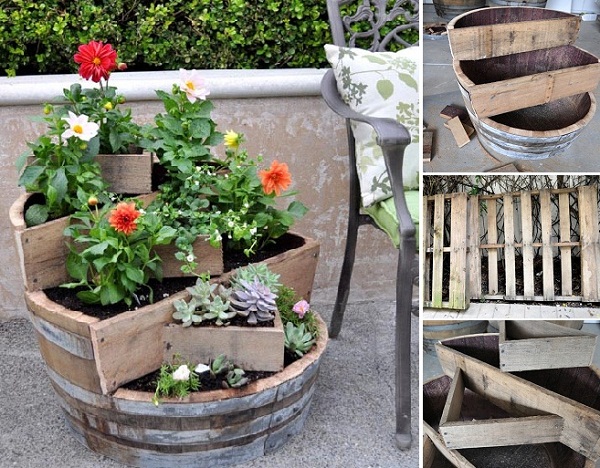 Gardening shouldn't be about spending a lot to get a nice looking result. Sure, you can impress with a big marble fountain or flower pots, but instead of an outdoor decoration that costs couple hundred dollars, use these instructions to make your own barrel planter, as much as ten times cheaper. Here is what you will need:
• half of a wine barrel;
• a measuring tape;
• (optional) twine;
• 2 boards of 1/2 by 6 by 26 inches wood;
• 7 pieces of 1/2 by 4 by 12 inches wood;
• a jigsaw;
• some wood screws;
• a compound miter saw;
• a power screwdriver;
• drill bit;
Start by measuring the barrel and dividing into thirds. You can use the twine to help you mark well the place to cut the barrel into 3 main tiers. Now comes the tricky part: with the help of the jigsaw cut 12 inches down the first tier, and then 6 inches down the second tier. When you get to the metal band, use a special blade you can buy from a hardware store.
Put a pair of drain holes into the bottom of the barrel, for each tier. Then, you could take some recycled pallets and take out the boards of wood. Fashion the two 1/2x6x26 inches boards to match the curb of the barrel, then attach them like in the image with some wood screws. Use the other 7 pieces to make the triangle pieces. Pour soil and place your plants. It looks vintage and awesome!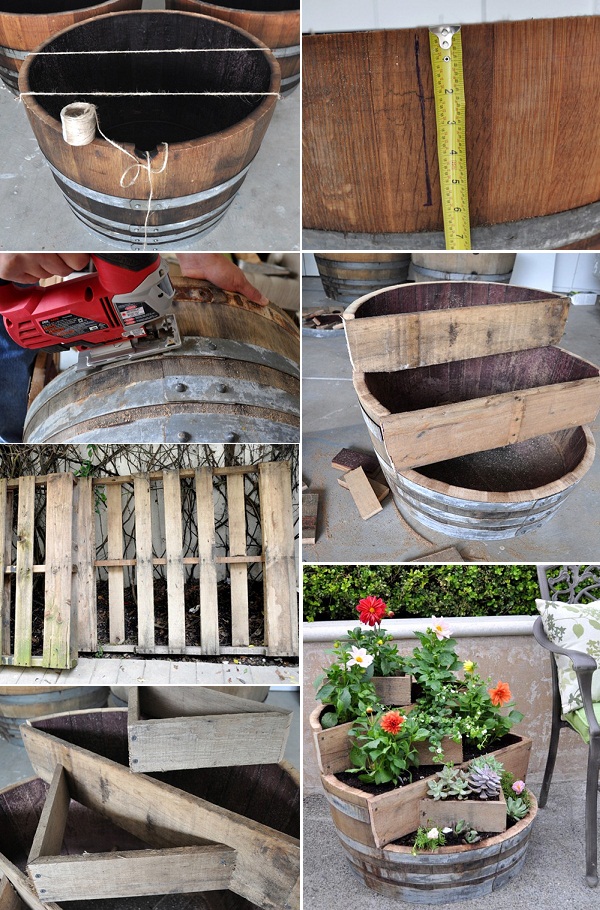 source: designsponge.com