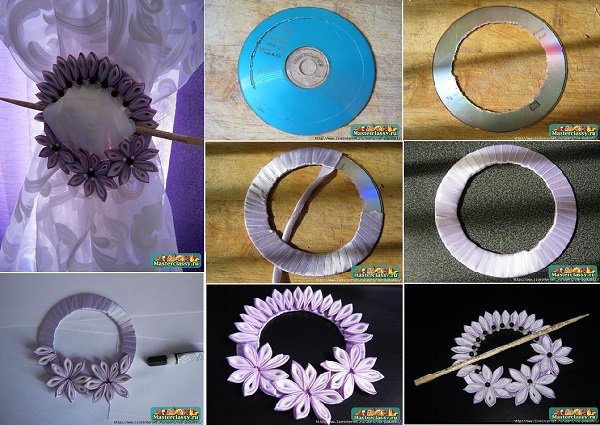 Is your house beginning to look dull and kind of loose? You want to improve your home design but don't actually want to spend money on some fancy pieces of decoration from the shop? You've reached the right place. So, take the next step in decorating your residence and try to make this awesome ribbon flower curtain knot. You might think there is some intricate technique behind this impressive piece of decor, but it's not! All the `magic` is done with:
• an old CD;
• a piece of ribbon;
• decorative ribbon flowers;
• a knife;
• some glue;
• a Japanese decorative chopstick;
• (optional) beads;
First thing to do is cutting a circle out of the CD, just like in the picture. Wrap ribbon around the entire disk. Then, pour glue on the spots you want to place some decorative flowers or petals made out of ribbon. You could make the curtain knot look more natural by sticking small beads in the center of the flowers. Feel free to use any design of ribbon flower available out there. Now, with the use of a chopstick, you secure the curtain through the knot and instantly improve the decor of the room. Wonderful!
source: masterclassy.ru