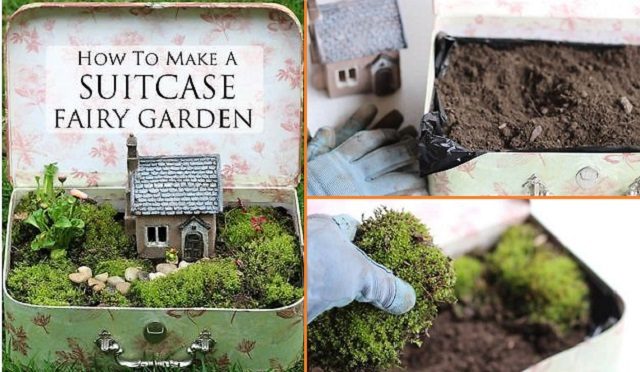 Vintage elements are still very popular, whether it comes to fashion, images or home design. When it comes to decorations, less is more in terms of vintage decor and it can do magic to your home or outdoor space. This next project is perfect for those who would like to bring a bit of susrrealism in their garden as it will teach you how to make a tiny fairy garden closed in a suitcase. Vintage suitcases cand be found in any flea market, so make sure you go searching for yours equipped with curiosity and excitement. This project is featured by Melissa. She is a DIY and garden blogger and has a shop on eBay. So, once you've found the perfect suitcase, you can start working on the tiny garden inside it. For this, you should make sure that every small element that you buy fits perfectly together and the scales of each are in harmony with the others. After that, decide if you would like to build a synthetic or a living garden as each of these comes with a set of responsibilities. Follow the instructions in 4 steps.
Be sure to follow Melissa eBay guides.
Step 1
Line suitcase with waterproof, plastic sheet.
Add potting / container soil.
Hide edges of plastic sheet.
You won't need to make drainage holes in the suitcase if you are just using plants like moss.
Line the suitcase with a plastic sheet.
Images © Empress Of Dirt
Step 2
Moisten plants (moss, sedum, grass) and add to suitcase.
You can tear the moss gently apart or use a serrated knife to trim it if needed.
Optional
If you would like to line the inside lid of the suitcase with moss, you can hot glue it in place and mist it with water to keep it green.
Images © Empress Of Dirt