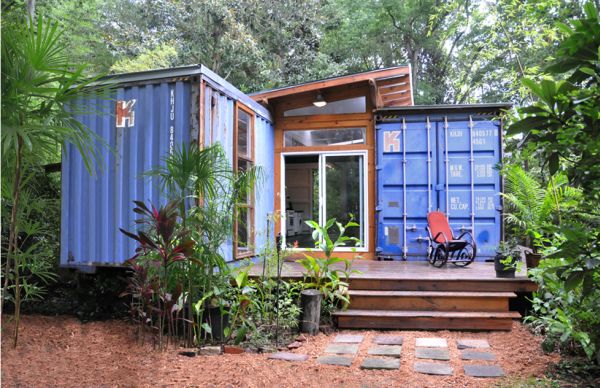 When you think of a house made out of shipping containers, you would probably imagine an ugly and out-of-the-ordinary design that simply doesn't spell home for you. That's not the case. Here you have a good example of a unique and good taste design used in a home built from 2 shipping containers.
The eco-friendly house uses two 20 square meters recycled shipping containers, as part of a Savannah project, which sought to deliver a comfortable and cheap place to live. Designed as a single couple one-story residence, it provides everything that a modern downtown apartment would, but for a more decent low budget.
Wood is mainly used for the blend in eco-friendly concept. Glass completes the image and feeling of hospitality, as the sliding see-through door after the neatly crafted wooden terrace, invites you in.
The containers had large portions of their edges cut off to let extra room for partitioning of the space. The indoor space is much larger than you would imagine. Cleverly decorated, it combines the kitchen with the dining and living room into one big inviting area. The bedroom is separated via a tiny lobby, but there is a glass-door that leads to the back terrace.